This post shows you the most famous Melbourne attractions. These are the sights to start with and for your next days there will be other things to do in Melbourne. Let's go sightseeing in Melbourne, the living city of four million inhabitants!
Most travellers probably want to go and see the downtown first. In Melbourne the downtown, the Central Business District, is easy to explore by foot, but there are other options too.
Melbourne Circular Tram
Sightseeing in Melbourne, the Transport
Melbourne Circular Tram
In addition there is the free Circular Tram that you can use. The circular tram makes a loop around the CBD and you can just hop on and off.
Melbourne Visitor Shuttle
To get outside of the CBD the City of Melbourne offers you an excellent tourist bus, The Melbourne Visitor Shuttle.
The red shuttle buses depart every 30 minutes. You get tickets from Melbourne Visitor Centre on Federation Square or at any stop along the route. Melbourne Visitor Shuttle fares are very tourist-friendly, only a few dollars for the loop. And what's best, this is a hop on hop off service too.
The Visitor Shuttle bus takes you to most famous Melbourne attractions and the driver keeps talking about the sights along the journey.
Melbourne City Tours
In addition there are organized city tours if you want to join them. They take you to the same places and to some more tourist attractions outside the city centre.
Sightseeing in Melbourne: Attractions Map
The map shows the itinerary between Melbourne sights by car and you can walk along the same route. It's not a long walk if you skip the South Melbourne Foreshore.
Notice that bus and tram routes may be different. My itinerary also differs from the Visitor Shuttle Bus route but you can use the shuttle as well and walk the rest and take the tram when needed.
Melbourne Central Business District
We will start with the Melbourne Central Business District. The CBD is a busy area with high buildings, and everywhere between them you can discover beautiful old buildings like the railway station building below.
Bourke and Swanston Streets are the busiest shopping streets of Melbourne and Collins Street too has many great high quality shops. And in addition there are shopping malls inside the blocks.
This is the Flinders Street railway station, Melbourne.
Some of the famous sights within the Melbourne CBD are the Flinders Street railway station next to the Federation Square complex and the Town Hall in the southern part of the CBD, and the State Library building in the northern part.
Here you can see pictures of  these buildings and a view of CBD from the Southbank, south of the Yarra River.
Click on the small photos and they will open up in a gallery.
Street views of Melbourne Central Business District
The CBD is perfect for a Melbourne city walk. Even in summer it doesn't get too hot since many of the streets get shade from trees on both sides.
Melbourne Chinatown
Melbourne's Chinatown is in the north eastern part of the CBD, and it covers several blocks. Chinatown is the center of the big Chinese immigrant community in Melbourne, but of course anybody is free to enjoy walking in Melbourne Chinatown.
Melbourne's Chinatown is well known for its many Chinese and other Asian restaurants and there are shops selling Chinese products and a Chinese Museum.
Southbank
Southbank is the area south of the CBD and the Yarra river.
The area south of Yarra has famous attractions: museums and entertainment centres and also a long row of popular cafés and restaurants along the riverbank walking boulevard.
Southbank also has the Eureka Tower, the highest building of the southern hemisphere. Eureka tower offers visitors a splendid view of the whole area of Melbourne, in all four directions. Recommend taking the lift up for the views!
This photo shows what the Southbank pedestrian area on Yarra River looks like in autumn. The trees are turning yellow.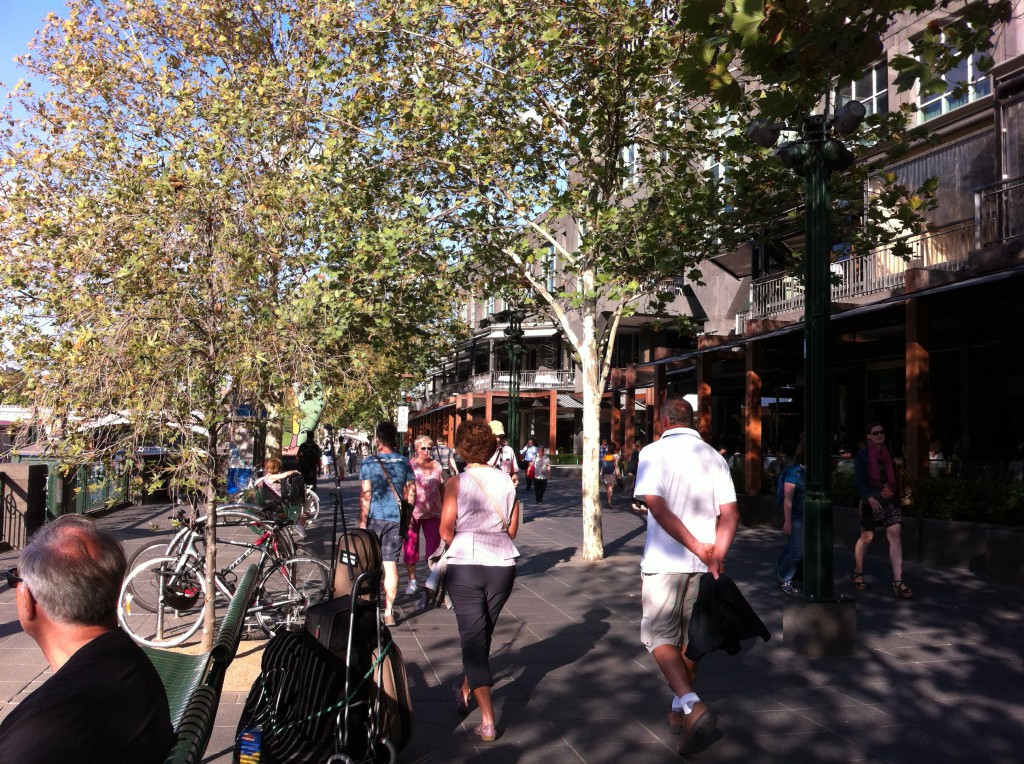 From Southbank you can easily walk back to the CBD, just use any of the many Yarra bridges.
Melbourne Immigration Museum
Immigration Museum is north of Yarra River and presents personal stories of women, men and children who have left behind what they have to find a new life in Australia. The journey from Europe has been long and risky and staying weeks on the fully-packed ships has been hard.
People from over 100 countries have moved to Australia for different reasons, often for poverty, a crisis or a war, or just a wish for a better life. In Britain and other European countries were also encouraged to migrate.
Starting from early settlers from Britain to recent migration from Asia this museum helps understand how this country was built, not forgetting the original Australians.
Immigration History on a Yarra Walking-bridge
History and statistics of immigration from almost all countries of the world to Australia is presented in a permanent exhibition on a walking-bridge. A very interesting exhibition.
And of course migration to Australia has not ended at all: today as many as one out of four Australians is born overseas in a different country and almost one fourth of Australians speaks another language than English at home.
Today Australia looks to me more like a multicultural than a British or European-style society.
Fitzroy Gardens
The Fitzroy Gardens are east of the CBD. The park is heritage listed and a popular picnic spot for the locals.
As we walked through the park on a Saturday afternoon we could watch two beautiful weddings of families with very different ethnic backgrounds. This is Australia! In addition we saw many people preparing for their family picnics carrying garden furniture, white table-clothes, food and wine,  and even neat decorations for their park parties.
Australia's oldest building, Captain James Cook's cottage with its herb garden is in Fitzroy Gardens. It is an interesting sight and tells about Australian history. You can visit this famous cottage and the herb garden behind it.
At night you can see possums that live in many of the old trees of the park. Some more views of Fitzroy Gardens:
Melbourne Museum and Carlton Gardens
Melbourne Museum is quite close to Fitzroy Gardens. The museum has eight galleries that give visitors an insight into Australia's and Victoria's nature, culture and history. The exhibitions are interesting for both adults and kids.
Melbourne Museum also has an exhibition on local Aboriginal culture. You'll find the exhibition at the Bunjilaka Cultural Centre. There is also a forest room where you can learn about Australian bushfires and the regeneration of forest that happens through them. I didn't know bushfires are so badly needed by Australian nature.
Next to the museum there is the huge Unesco's World Heritage listed Royal Exhibition Building.
Lygon Street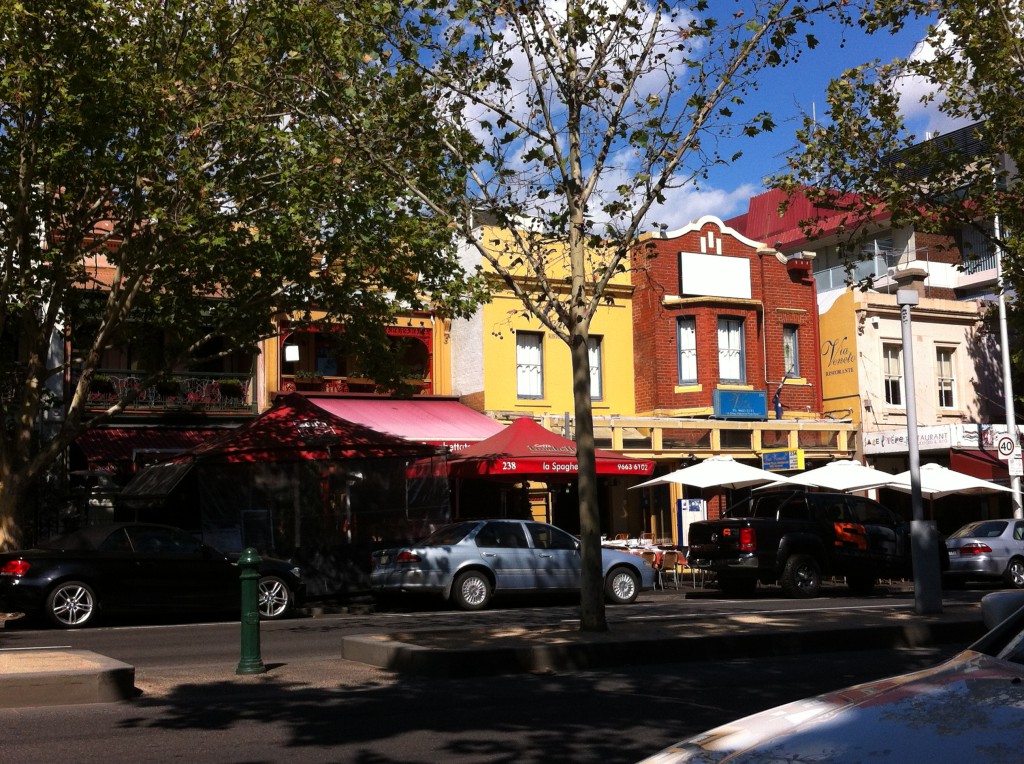 Lygon Street that is also called Little Italy, is the home of the big Italian community in Melbourne. Traditional Italian food and Italian coffee are offered in the many street restaurants around in the area, and you can hear lots of Italian spoken by the locals. … Are we in Europe or Australia?
Queen Victoria Market
The Queen Victoria Market is the next Melbourne attraction:  a bustling market that was established in 1878. Generations of Melbournians have done their weekly fruit, vegetable, fish and meat shopping and they still do it. It's most crowded on Saturdays.

Walk here for a while and you'll see how delicious and high quality food and great wines Australia really produces.
These were the main things to do in Melbourne on your first day. But maybe you still want to see some Australian beach life?
South Melbourne Beach
This is an optional itinerary that you can take any time if you get tired of Melbourne sightseeing. It may happen at some stage you start feeling it's beach time. No problem, in Melbourne it is easy to get to the beach, just take a tram.
The South Melbourne beach is close enough to the city, and there's another beach too you can reach by tram: the more famous St. Kilda beach a bit further south.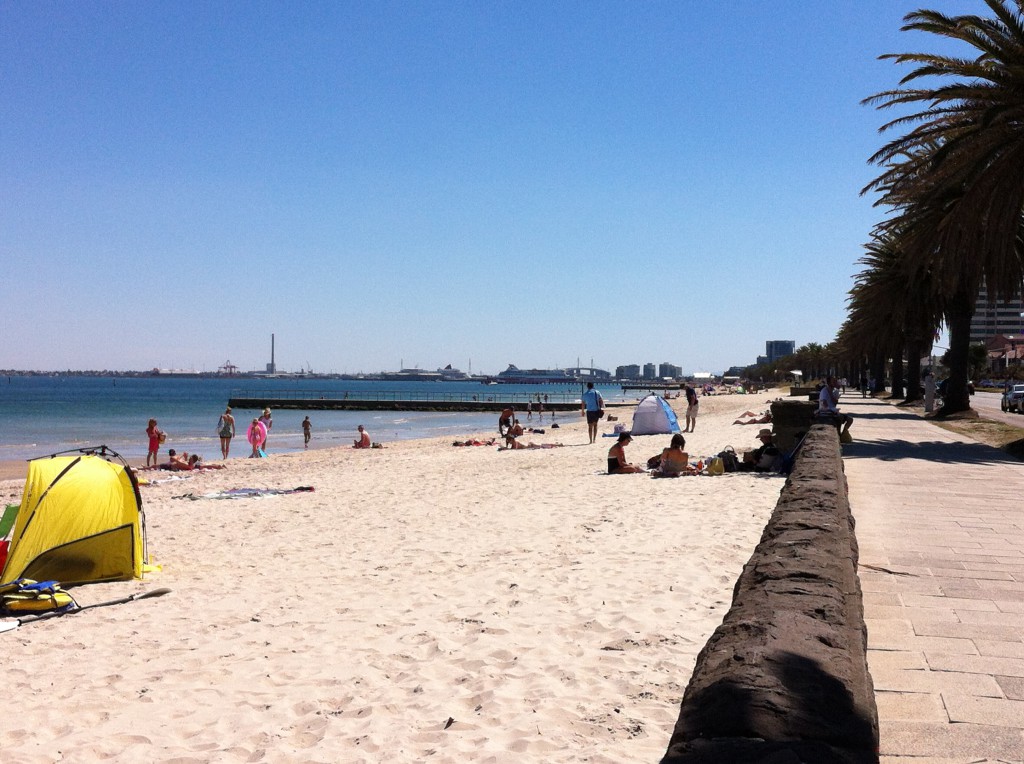 If you want to see more around South Melbourne you can head east to the centre of South Melbourne suburb. There is the beautiful green Albert Park with a lake with black swans. The Melbourne Formula Grand Prix races are held in Albert Park each year in March.
And you can continue further south to the other beach suburb of St Kilda. On your way back by the tram you can stop and see the Royal Botanic Gardens.
I hope you enjoyed this Melbourne attractions tour. I hope you have a chance to visit this great city and Australia some day!
—————————————————-
For more information on Melbourne and the surroundings you can check out my other posts.
My other Posts on Melbourne
Day Trips from Melbourne:
Driving from Melbourne to Sydney: