The coastal drive from San Francisco to Monterey is one of the top scenic drives in the US. I will show you Highway 1 sights and tell you where on this world-famous route you should stop. 
If you are visiting San Francisco why not make a trip to Monterey? The city has a scenic location and offers a lot for visitors. Fisherman's Wharf, Cannery Row, Aquarium, whale cruises…
And outside the city there are the two postcard-pretty towns Carmel-by-the-Sea and Pacific Grove. Or why not stay in Carmel Valleyt where they grow wine. And if you like you can drive on to Big Sur.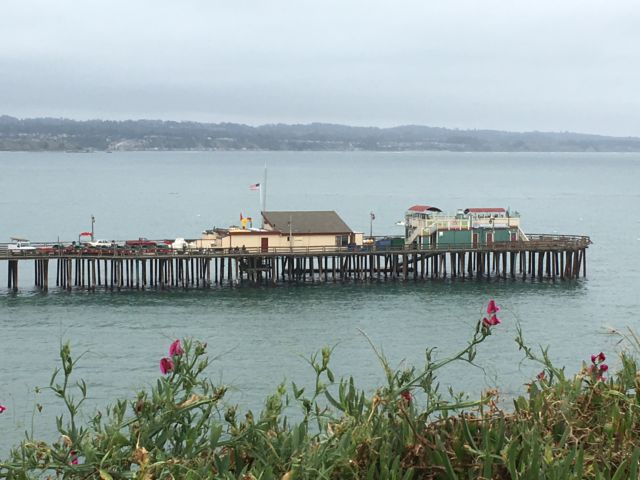 Capitola Wharf, Highway 1, California
There are many possibilities, but what about the drive from San Francisco to Monterey? Let's look at the map first.
San Francisco to Monterey Itinerary on the Map
This map shows you the itinerary from San Francisco to Monterey along Highway 1. It's a short way to drive, just 130 miles, but we spent a full day on this scenic coastal drive. Otherwise you don't see all the sights.
So we started our Highway 1 tour from San Francisco, driving south from the Golden Gate Bridge.
San Francisco
 Golden Gate Bridge, San Francisco
San Francisco of course is a must see place in California. We spent days exploring this amazing city and I recommend that to you too. I wrote two posts on San Francisco sights (and some more on other attractions in San Francisco area). Here are my San Francisco posts and you can find the rest on the California posts page.
Lands End, California
Highway 1 takes you from Golden Gate Bridge through the Presidio to Golden Gate Park in south. From there it takes you to US 280 in Daly City. You can take that road if you like. We instead tried the smaller road along the seashore, Lincoln Boulevard to Sea Cliff and Lands End.

Sutro Baths, Lands End
Lands End is a popular hiking area and there is an old bathing complex (Sutro Baths). What about a hike in the fresh sea wind?
After Cliff House the road turns inland. The Great Highway leads you past Golden Gate Park to Skyline Boulevard that you will follow up to Pacifica.

Ocean beach and Great Highway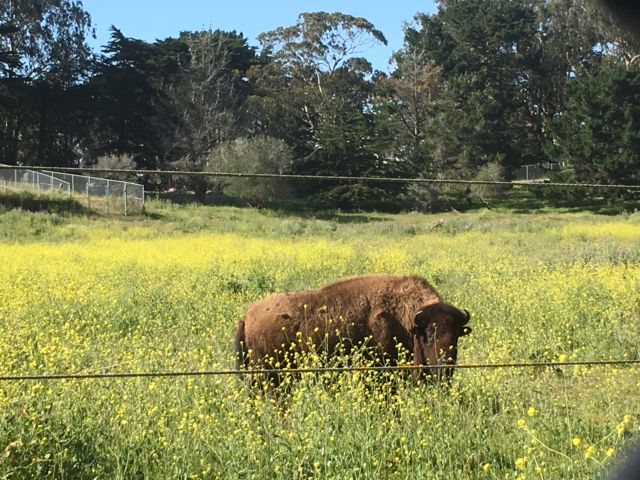 Buffalo in Golden Gate Park
In Pacifica south of San Francisco Highway 1 narrows to a two lane road. There is a row of small towns like Princeton and Half Moon Bay and sandy beaches all the way as you drive down.
Nice beaches but no-one is swimming, absolutely nobody. The Pacific Ocean is very cold, all year round. But you can spend time on beaches in other ways and look at Californian spring flowers:
Californian flowers, Highway 1 San Francisco to Monterey
Pescadero
After some driving the old village of Pescadero might be the place for your first stop. It's a tiny village, a small farming community that only has a church, a country store, a tavern and a post office. But that's all you need. We are in the American West.
Pescadero is so tranquil and so original, and just a short drive from the crowds of San Francisco and Silicon Valley.
Just two streets with Wild West buildings. And better still, one of the farmers is producing traditional American barns for sale. I'd so much love to take one of these barns with me and put them to my home yard, back home in Finland, Europe! As a souvenir from here.
More village views of Pescadero, California Highway 1 San Francisco to Monterey:
Pescadero homes
Main street, Pescadero, California
Pescadero Country Store
We stopped a the Country Store. It also had a taverna were local farmers in their cowboy hats and leather booths where having lunch.
We just had to order hamburgers and join them!
Pescadero country store: the bar
A Pescadero hamburger
Rocky Shoreline and Sea Birds
The region here is very flat farmland but there is a pretty shoreline with rocky cliffs and sandy coves.
Driving southward there are natural preserves that are good for bird-watching.  Above a California sea bird and below a coast view:
Pigeon Point
Pigeon Point Lighthouse
The next stop on Highway 1 is Pigeon Point, 8 miles (13 km) south of Pescadero. Pigeon Point has an old lighthouse station that today serves as a hostel. So this rural area has some accommodation!
The lighthouse built in 1872 seemed to be closed for the public but you we walked around in the hostel area.

Pigeon Point Lighthouse Hostel
Spring is a great time for California travel. The weather is not too hot (and we noticed it can be misty on the coast). There are absolutely no crowds yet.

But in the spring the nature shows its best. There are flowers everywhere, a lot of them! Look at these ice flowers!
Californian ice flower
California also has a lot of succulents that benefit of the dry but misty climate. Succulents flourish here and grow into huge dimensions:
Wallside succulents, Pigeon Point
Californian succulents
Pigeon Point rocks are a perfect spot to observe ocean life. There are seals swimming around, barking and lying on the rocks:
Pigeon Point sea life, California Highway 1
A California seal off Pigeon Point
And of course there are the water birds, and whole colonies of them.
A big black bird at Pigeon Point
Californian water birds
But we have to continue south, we are on the way to Monterey. We are driving in the gently rolling, green landscape. Next stop: Ano Nuevo State Park.

Ano Nuevo State Park
The beautiful Ano Nuevo State Park consists of a vast area of Californian coast and also extends to the western slopes of the coastal mountains. There are marked walking trails and picnic areas. Parts of the state park are farming land where many crops and herbs, among other things rosemary is grown.
Californian rosemary
But Ano Nuevo State Park is best known for its elephant seals that flock here in great numbers during their breeding season every winter.
To see elephant seals you have to walk 3 miles (5 km) from the car park at the park's south end.
Most times of the year small numbers of elephant seals can be seen in Ano Nuevo State Park and during breeding season you can see a lot of them. At that time you are only allowed to go and watch the seals together with the park ranger.
A Californian elephant seal
Ano Nuevo State Park, California
Information on Ano Nuevo State Park on the California Department of Parks and Recreation website.
Further down Highway 1 comes the next thing to see: the Natural Bridges State Beach.
Natural Bridges State Beach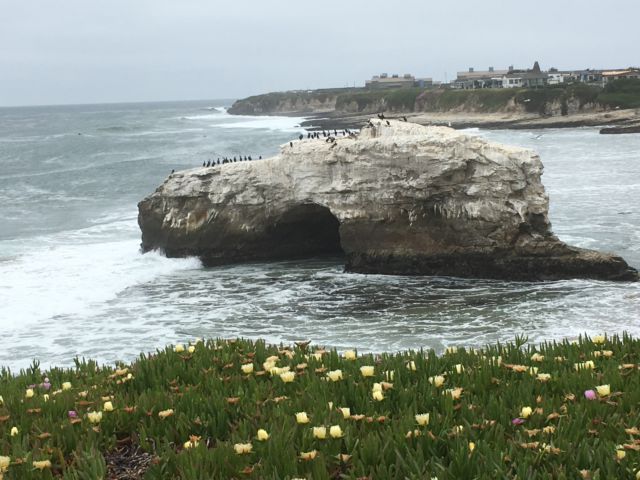 On Natural Bridges State Beach ocean waves have carved huge archways into sandstone cliffs. This makes the cliffs look like bridges which of course is what the beach's name comes from.
There have been many cliffs of this kind but most of them have collapsed. Only this one is left. You can see the archway at a short distance since it's just offshore.
Natural Bridges State Park sea birds
The state park itself has a small and protected sandy beach with pretty tidewater pools.
In addition there is a nature path in a grove where you can see Monarch butterflies at certain times of the year. If you're lucky you can see as many as 100 000 butterflies at the same time! The butterflies stay here in the winter and when spring comes they move to inland valleys.
West Cliff Walk
West Cliff Walk, or West Cliff Drive, is between Natural Bridges State Beach and the Lighthouse Field State Beach just north of Santa Cruz. It is a 3 mile scenic walk or bike route (also a driving route) along the Pacific Ocean.
Lighthouse Point at the south end is a good place for whale and dolphin watching.
West Cliff Drive, California
Surfers walking down the cliff
West Cliff Drive flowers
An ice flower
West Cliff drive is a residential area in Santa Cruz. A nice area where each home is different.

West Cliff Drive homes, California Highway 1
Santa Cruz
West Cliff Drive ends at Santa Cruz. The city was severely damaged in an earthquake but was rebuilt. There are many new houses but the historic core still remains.
Santa Cruz is a university town that is linked by a good road to Silicon Valley. One of California's missions (that all lie on the earthquake zone) is here, the Mission of Santa Cruz. 
Santa Cruz is a popular tourist resort. The most famous sight is the Santa Cruz Beach Boardwalk with an old style amusement park and other attractions for holidaymakers. The roller coaster is a National Historic Landmark.
Behind the amusement park is a beautiful sandy beach.
Santa Cruz also has a long 1oo year old wharf with shops and restaurants. From the wharf you can watch wildlife like sea lions, and free sea lion shows are arranged at the end of the pier.

 Santa Cruz flowers, California Highway 1 

More information on Santa Cruz and the area on the official Santa Cruz travel website.
Capitola
Capitola, California
South of Santa Cruz is the postcard-pretty Capitola, a traditional resort town, the Pacific Coast's oldest. Capitola was founded over 135 years ago and it has kept much of the old atmosphere.
A river, Soquel Creek with the remains of an old wooden railway bridge splits the village is two parts.
Capitola flowers
Capitola has some Key West atmosphere, there are pretty buildings in pastel colors, oceanside cafes and a long pier.
Street views of Capitola, California

Capitola looks like an ideal resort for a relaxed vacation. It has a sandy beach, restaurants, small galleries and antique shops, and Santa Cruz and Monterey at a close distance.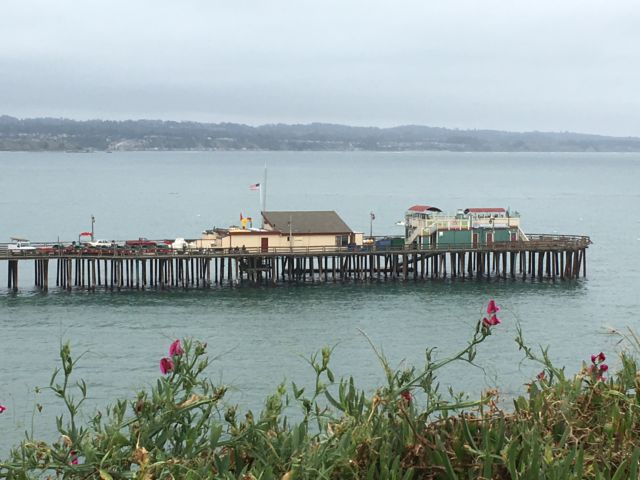 This is the long Capitola Wharf where you can fish or have a meal, or rent a kayak.
View of Capitola, California Highway 1
Monterey
Monterey is our destination, the city with an interesting history. It got its name from a Spanish explorer who came to Monterey in 1602.Years later Monterey became the capital of the Spanish California.
They city also saw the gold rush after which the capital was moved to San Francisco in 1848.
Fisherman's Wharf
Like Santa Cruz Monterey is a fishing port with a long wharf. Monterey's wharf is called Fisherman's Wharf.
The wharf has been the center of fishing and whaling but is today more famous for its souvenir shops, seafood restaurants and whale watching tours.
Me and my husband don't care about souvenirs and neither do we like candies.
Instead we took a whale watching tour with one of the companies which I can recommend. We spotted many whales, mostly humpback whales and our guide told us a lot whales them and their habits.
California Sea Lions
In Monterey Harbor you can see sea lions everywhere. Hundreds and thousands of sea lions, much more than in San Francisco.
Monterey Bay sea lions climb to the breakwater and on stones and you can see them below the pier. They even climb on boats. You can see them in the water. They make a noise and they smell, but they are so nice to look at!

The Pacific Ocean outside Monterey is rich with sea life. Monterey Bay has a vast underwater canyon, it's like the Grand Canyon below the water.  The deep Monterey Canyon also makes it possible for whales to live very close to the shore.
Monterey Bay waters have been proclaimed the Monterey Bay National Marine Sanctuary.
Monterey Bay Marina, California Highway 1
Cannery Row
Cannery Row used to be a street lined with sardine canneries, an industrial area. Like many other industrial areas it transformed to a shopping and tourist area that today also has the world-famous Monterey Aquarium in one of the canneries, at the north end of the shopping district.
It was John Steinbeck's well-known book that gave this very special area its name. Steinbeck wrote two of his novels, Cannery Row (1945) and Sweet Thursday (1954) in Monterey, observing the harsh life of fishermen and cannery workers.
Cannery Row completes my post on our drive along Highway 1 from San Francisco to Monterey. So now you are in Monterey, California. What else can you do in the Monterey Bay area?
What to Do in Monterey Bay Area?
I made a separate post on Monterey Bay area travel destinations: Pacific Grove, 17-Mile Drive, Carmel-by-the-Sea and Carmel Valley.
For more about California travel you can check out my other posts on California. Behind this link you can find a list on my all California posts:
And you can also read more on Monterey and the area on the official Monterey travel website.
Fisherman's Wharf, Monterey, California