This post tells you how to make a Las Palmas mountain trip by car. See the great mountains and pretty gingerbread villages right outside the biggest city of Gran Canaria. 
The route goes south from Las Palmas and climbs into the mountains. After many pretty towns and villages you drive to north cost of Gran Canaria and follow the coast back to Las Palmas.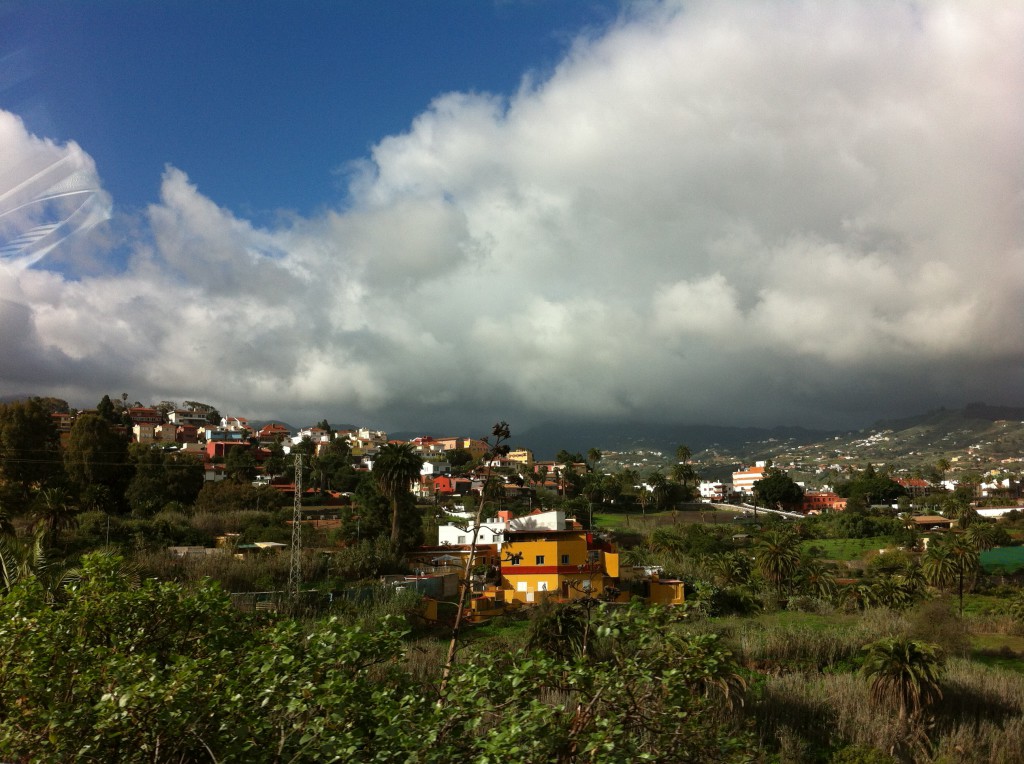 Start the trip from Las Palmas taking the road to Tafira Alta and on to Santa Brigida. If you like plants and vegetation you can visit the Jardin Botanico Canario in Tafira Alta. Jardim Botanico Canario is described in my other blog post Cave House Trip from Las Palmas.
Right outside of Las Palmas the road starts climbing and you can start enjoying pretty mountain views and tiny villages you are driving through. The road on my whole Las Palmas mountain trip route is good but climbing to the mountains of course means a lot of curves on the way so driving is a bit slow.
The weather in the mountains is often partly cloudy so be prepared to short rain showers and a cooler weather than in Las Palmas.
Route Map of Las Palmas Mountain Trip
This is the route map on Google Maps. You can zoom in and out the map and save it in your own maps if you like. The towns you will visit along the route are Santa Brigida, Vega de San Mateo and Firgas.
Santa Brigida
The first destination on our Las Palmas mountain trip is a postcard-pretty village very close to Las Palmas, Santa Brigida. It's absolutely worth stopping at Santa Brigida and having a walk around its cobbled streets. You can also have hot chocolate with fresh churros in one of the street cafés.
The houses in Santa Brigida have a fairy-tale look. They are painted in bright colours and have grey stones in the walls.
Click on the small photos to see them in a slideshow.
Hot chocolate and churros
 Vega de San Mateo
After driving on in the green mountain scenery the next stop is at Vega de San Mateo. Vega is a lively small town high in the mountains. Vega is the highest point of this trip and after Vega the road goes down again.
On Sundays a popular market is held on the market place and you can also visit a local food producers' market in the market hall nearby. Delicious bread, goat cheese, honey, almonds, sausages and wine can all be tasted and bought from local producers.
When you feel you've seen Vega de San Mateo you continue towards Teror.
Even when the distance is not long, driving takes time since the road is winding. But you can admire the views, the flora and Canarian trees, for example the Canary island pine.
 Teror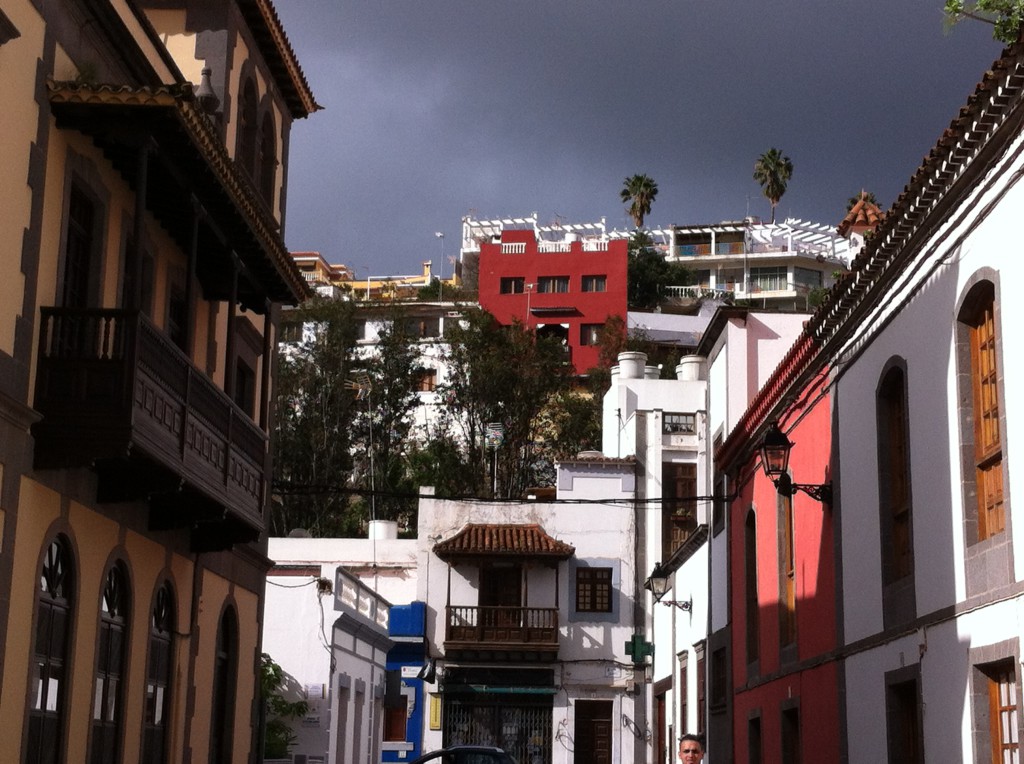 Teror is the island's religious capital and the town of  Nuestra senora del Pino, the patron saint of the island. The town is visited by pilgrims from all over Gran Canaria. Have a look at the richly decorated church and the old streets.
You can also sit down and enjoy lunch or coffee at the restaurants around the pretty market place.
 Down to Firgas
On our Las Palmas mountain trip we can soon see the north coast of Gran Canaria and even Las Palmas in the distance, and it's well worth stopping somewhere to admire the view.
Firgas has a famous spring of natural water. Water and motives from the different Canary islands have been used in constructing a beautiful walking passage in the town.
To Las Palmas 
– via Puerto de las Nieves!
After visiting Firgas you can choose if you still want to see the towns of Arucas and Moya, or maybe you'll prefer returning directly to Las Palmas.
We felt extremely hungry at this stage and took a side trip to one of the fish restaurants in Puerto de las Nieves on the west coast and returned to Las Palmas first later in the evening.
I hope you enjoyed this Las Palmas mountain trip with us. I really recommend this relaxing Sunday trip to the beautiful mountains close to Las Palmas!
It might be practical to rent a small car for these narrow roads if you don't need a big one. A small car makes driving in the hundreds of curves and parking in small towns easier.
My Other Posts on Gran Canaria: