Essaouira is one of those pretty Moroccan coastal towns that have not been taken over by tourists. Yet it has a lot to offer the independent traveler that wants to meet Morocco as it is: women in veils, woodworkers at their craft, narrow alleys, whitewashed walls and blue doors.
And fresh sea winds, fishermen returning from the sea and camel rides on the beach.
An Essaoiura city gate
Yes, Essaouira has a wonderful sandy beach, streching kilometers south of the city. But since there often are heavy winds from the Atlantic Essaouira is more a wind surfing than bathing destination.
Moreover, Essaouira has a long history.
Day Trip from Marrakech to Essaouira
I made a minibus day trip to Essaouira from Marrakech where I was staying. It was an easy desert drive, three hours one way along a good surfaced road and partly along  a four-lane motorway, so there was no need to drive on sand.
Here are some roadside views that all look the same. The desert looks like this, all the way. Sand and more sand.
You can tell Morocco is a dry country, and you can also tell where some water exists. Where there is water they grow plants: palms, olive trees, argan trees, vegetables.
This is the road from Marrakech, close to Essaouira. It's more green at this end and you can see argan trees on both sides of the road:
But of course it's not just empty desert all the way, there are small communities here and there. This is one of them, with typical pink houses and sandy cars and bikes:
And then, finally, we reached the Atlantic coast and got a view of Essaouira from the hills:
Essaouira on the Map
On this Google map you can see where Essaouira is located, and I also marked the 200 km drive from Marrakech on the map.  Zoom out the map and you will see that Essaouira is south of Casablanca and north of Agadir.
Now, let's go and explore the historic Essaouira. We'll start with the marketplace, Place Moulay Hassan.
Place Moulay Hassan
The square of Moulay Hassan is a natural place to start with. South of the square is the old harbor with its blue wooden fishing boats and north of the square is the Medina. Moulay Hassan is the social center where people gather at nights.
At daytime it's pretty quiet but in the evenings they set up grilled fish stalls on the square and people start to flock here.
A Place Moulay Hassan cafe
 Place Moulay Hassan street life
Essaouira City Walls
Essaouira has thick city walls around it, on all sides. But these walls are not as old as you could think.
They are from the 18th century, from the time the town was purpose-built by Sultan Ben Abdallah to a Moroccan naval base. In that phase the center of Essaouira was redesigned by a Frenchman who worked for the Sultan.
The Frenchman combined European and Moroccan styles and gave Essaouira a different fresh design, yet something very Moroccan!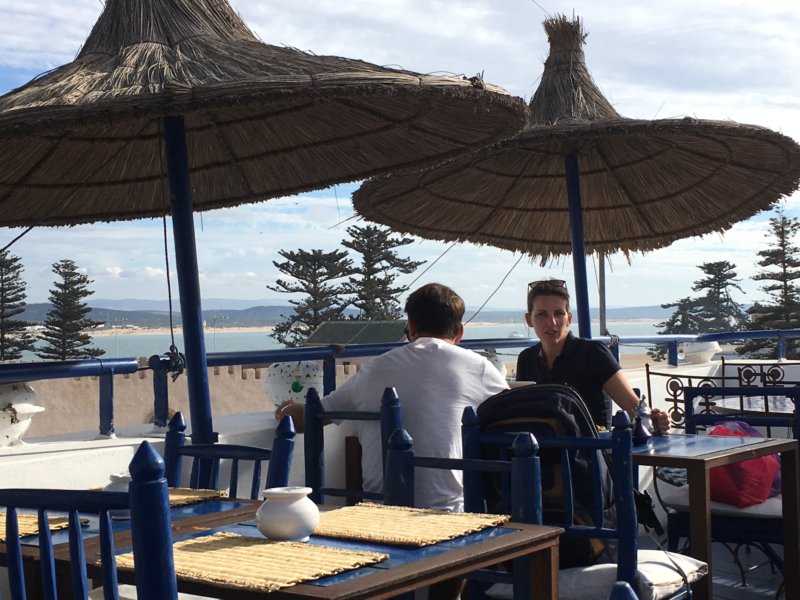 Essaouira city walls and the ocean from a blue cafe
Essaouira, a Blue and White City
And Essaouira became a blue and white city. The houses were painted in fresh white and blue color was occasionally added.
I don't know if these colors are typical of Morocco but I've seen another blue and white coastal town in Morocco. That was Asilah two hours south of Tanger, a very pretty town as well.
This makes me think about Greece. And in my home country Finland we have blue and white in our flag too. But the Moroccan blue is much stronger than the Finnish one.
The same Moroccan blue can be seen in clothing as well:
This man is having his glass of mint tea. In Morocco green mint tea is almost a national drink. They serve it everywhere and at all times of day, either unsweetened or with a lot of sugar added.
But the group I was traveling with had a lunch. And some Moroccan wine.  We sat and enjoyed the sea breeze and the view of Essaouira city walls:
Essaouira's Long History
As I already mentioned the medina was built first in the 18th century. But Essaouira has been a wealthy city and a trade center thousands of years before that.
In Roman times  they produced purple dye, the world's most valuable commodity here, in Essaouira. In those days they used purple dye to color clothes of the rich and the wealthy. The ingredients for purple dye were made from sea snails that lived in the area around Essaouira.
Today there are more ways to produce colors but strong colors still make an essential part of the Moroccan culture. You can see strong colors everywhere, in textiles, carpets and clothing: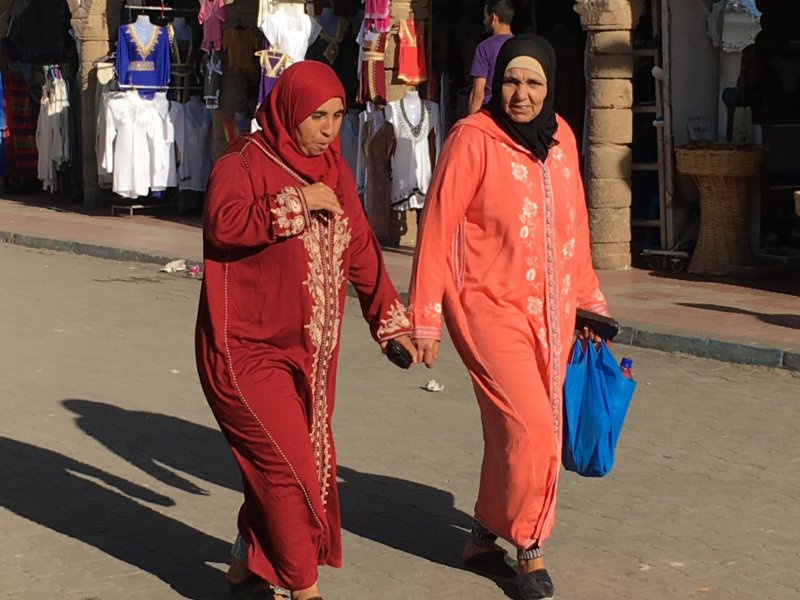 So Essaouira has been an important trading port for thousands of years and both Europeans and Moroccans wanted to have it.
In addition Arabs from the north and Berbers from the south came here.
Later on artists flocked to Essaouira for its intensive light. Essaouira became an artist city in the 1950s and many famous people like Jimi Hendrix, Bob Marley and Winston Churchill stayed here.
The next people to come were the hippies. And today as Morocco develops its tourism European travelers are coming to Essaouira.
Tagine pots sold as souvenirs
More tourist stuff
African artwork in Essaouira style
A Walk in the Medina
Essaouira's walled medina is very atmospheric and so pretty that it has been taken on UNESCO's World Heritage List. I dived in and walked aimlessly in the labyrinth, watching street life and how locals spent their Friday afternoon.
Here you can see Essaouira Medina on the map and a rough draft of my walking-route in the medina. My route was not straight like this all the time, I looked into side streets and stopped where I found something to stop for.
Essaouira Medina on the Map
The principle with Moroccan medinas is that they are divided in two by two main streets that cross each other in the center. That's the place where the most important souks like the food and spice souks are.
All the other souks are arranged on the next streets according to the products they sell. And then the mosque is a block or two from the souk center.
Essaouira medina in photos: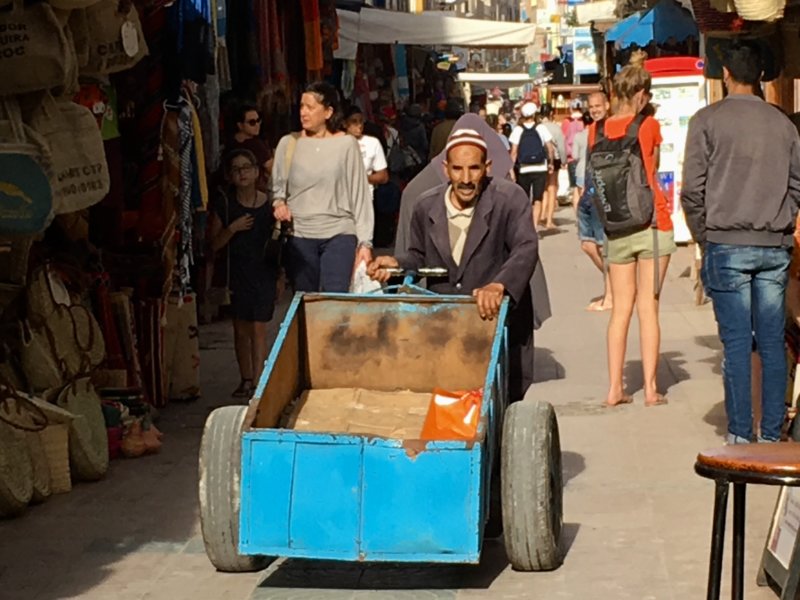 … But as I was on a day trip it was time to stop dreaming. I noticed the time was running out and I had to run back to our meeting point to get back to Marrakech.
It was so nice and warm in the Medina, and the smells and tastes got me forget the time. But now, to the wind and fresh air!
Essaoiura Beach
Nice to hear the seagulls again, and see the ocean waves. A lovely beach that I didn't have time to enjoy.
But wish to meet you again, Essaouira. If I ever will return I will spend some time walking along the beach, then stroll in the harbor and walk around the medina along the massive city wall. And then I have to see all the small art galleries and museums.
Essaouira beach cafe, Morocco
More on Morocco Travel: