Phillip Island is famous for its Little Penguins that waddle from the sea every day at sunset, in all weather. Phillip Island is just two hours from Melbourne and makes a perfect day trip if you're visiting Melbourne. And even better if you can stay a couple of days, since there is much more to see.
You can meet wallabies, koalas, pelicans and perhaps a whole seal colony. You can visit Australia's oldest farm and walk along the rocky shoreline, and there are loads of other attractions to enjoy, depending on what kind of activity you like.

We decided to stay the whole weekend on Phillip Island. What did we do there?
First we bought a 3 Parks Pass on the Phillip Island website. With the 3 Parks Pass you can visit three different attractions on Phillip Island during the same day. In addition to the Penguin Parade the Koala Conservation Centre and Churchill Island Heritage Farm are included.
Map of Phillip Island
The map shows where on Phillip Island the destinations are. The best driving routes between the destinations depend on the order in which you visit the sights.
Koalas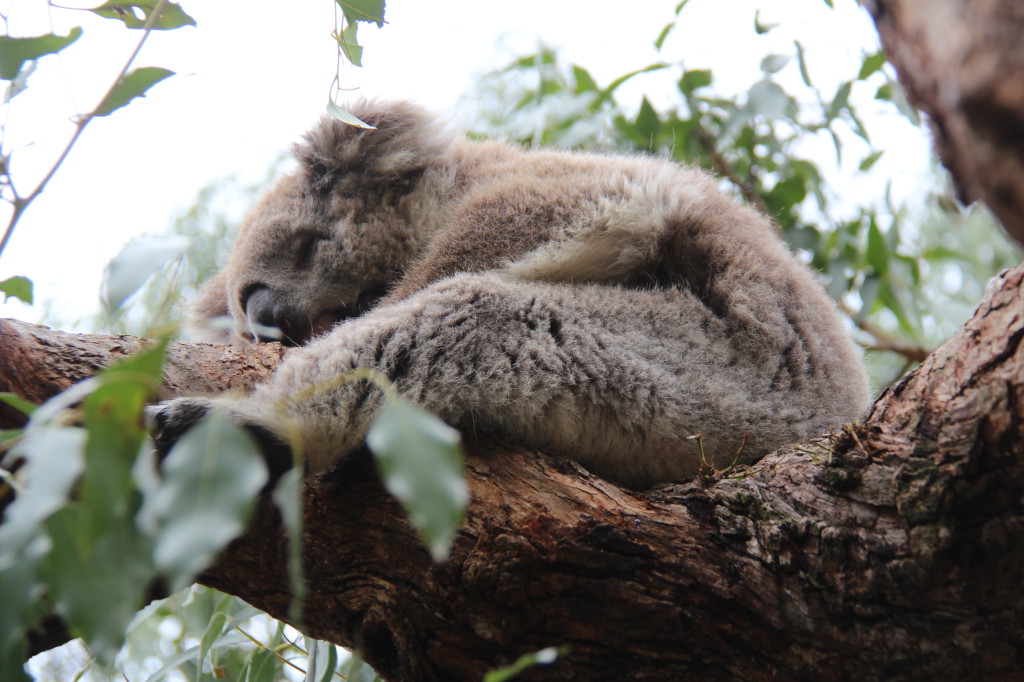 We went to meet koalas face to face in their natural surroundings, an eucalyptus forest. In the middle of the island there is a Koala Conservation Centre where koalas live in the woodlands and as a result the number of koalas has been increasing outside the area too.
The reserve has walking trails and treetop boardwalks where you can watch koalas at close distance.  Most of the koalas we saw were quite sleepy since it was daytime, but some of them were eating eucalyptus leaves and staring at us.
Koala Conservation Centre has a small wetland area with a birdlife and wallabies and possums also live in the reserve. In an indoor exhibition the life of koalas was explained so we learned a lot.
The reserve offers a great way to observe koalas, which are very rare animals in Australia and hard to see. Afterwards we walked in other eucalyptus forests on the island with our cameras, but didn't find more of these cute creatures.
Little Penguins
Phillip Island has one of the largest penguin colonies in Australia.
Every night at dusk hundreds of Little Penguins return home from the sea. They come in groups for safety reasons, looking in all directions to avoid enemies, and several times they all rush back to the waters to make a new try. Finally they are brave enough to make their way to their nests in the sand dunes and around the car park.
Watching the penguins at Summerland beach is a big show with hundreds of spectators coming every night, and all revenue is re-invested into protecting the penguins.
To protect the penguins, taking any pictures was prohibited, so I don't have anything to show of the spectacle we were watching.
Waiting for the Little Penguins to return home.
 Looking for a seal colony
Before the penguin parade we visited the nearby Nobbies Centre. From there walked along the rugged coastline on a cliff-top boardwalk, looking at the wild waters and the seal rocks.
The seal colony was too far away to see with bare eyes, but during high-season there are cruises to the seal rocks.
Driving along narrow country roads
From the Nobbies Centre we could see that there was a narrow cliff top road leading towards Summerland beach where the penguins are. The views from the road where just great all the way, and just had to keep stopping all the time since there were dozens of wallabies raising their heads from the grass when they noticed us coming.
All of them kept staring at us for a long long time before deciding that it's better to slowly start jumping away.
Admiring beaches
Cape Woolamai is the southernmost point of Phillip Island and it has a beaufiful, enourmous beach and another surfing beach.
 Walking along footpaths
Cape Woolamai has walking tracks that start from the main beach and follow the beach and up to the dunes, the longest walk ending at The Pinnacles, a spectacular rock formation.
We followed the path which was scenic. When coming back we took the wrong path where walking in deep soft sand felt just like walking in thick snow at home. But never mind, that was good exercise for legs.
Walking around a little island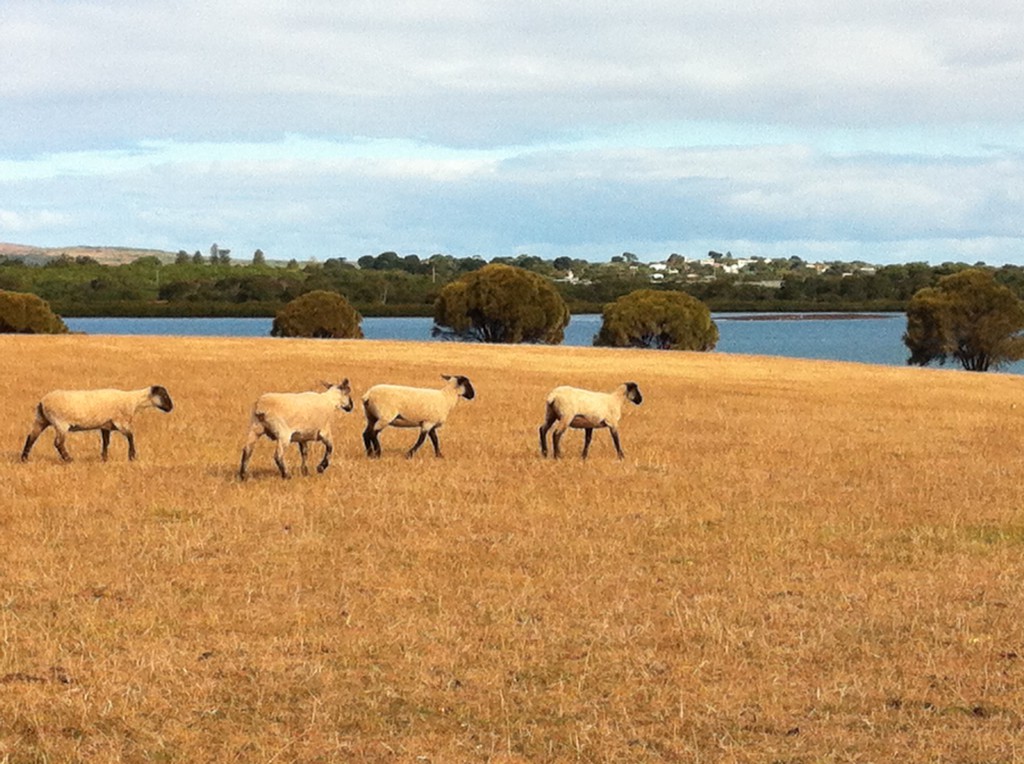 The tiny Churchill Island is connected with Phillip Island by a narrow bridge. The island has many trails and we spent almost the whole afternoon walking around the island.
Visiting an old farm
In the middle of Churchill Island there is Australia's oldest farm, a heritage farm, which is a picturesque place with a well-preserved main building, other farm buildings, all the farm animals and a garden.
 Visiting villages and towns
These pictures are from the harbour of the little town Rhyll, at low tide.
Rhyll is pretty and there would have been more to see, like in the biggest town Cowes where we stayed.
Cowes has many shops and restaurants, even if they seemed to close quite early in the evening.
If you are used to late dinners it might be a good idea to change your habits a bit when touring Australia during the low-season. Why not have a lunch or an early dinner instead?
Phillip Island is a must-to-do trip if you're visiting Melbourne. There is a good selection of organized tours but if you really want to have time to enjoy the island's nature it's a better idea to rent a car. Driving in Australia is easy and traffic is nice and slow, so just go ahead!
You can find more information and make bookings to Phillip Island attractions on these websites:
My Other Day Trip Suggestions from Melbourne:
My Posts on Melbourne
Driving from Melbourne to Sydney: