The 2014 Formula 1 Australian Grand Prix race was held in Melbourne this weekend. The Melbourne suburb of Albert Park transformed as it prepared for motor sport driving elite from all around the world. You could also feel the coming event in other parts of the city.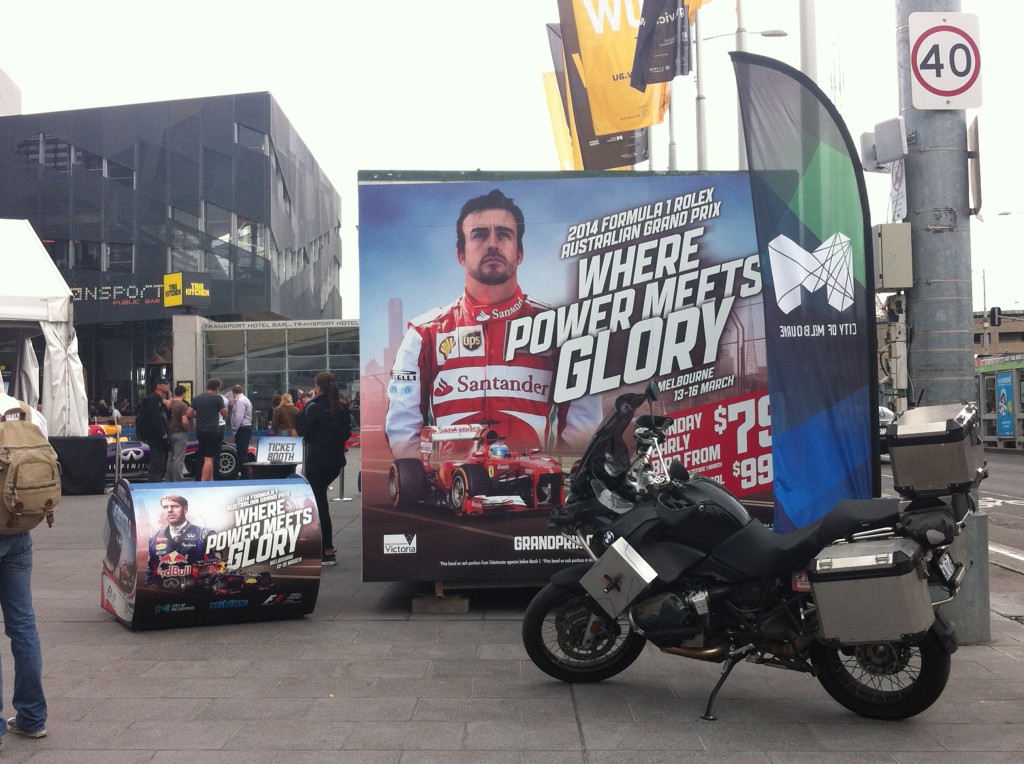 We went to see the preparations in Albert Lake Park, which is just four kilometers from where we live.  A few days before the race you could still walk around in the whole area and follow the formula track by foot or car.
Albert Park was already well prepared for the Formula 1 Grand Prix. The only spectators by that time were the white seagulls on the grass, among them a tiny parrot baby.
On Thursday 13 March it started and you could already  hear the formulas speeding on the track.  Some roads were closed and changes in tram services were introduced to allow  all the  hundreds of thousands of spectators access to participate in the four action-packed days.
In addition to the formulas there is a rich variety of other attractions and entertainment ranging from Aussie music to skateboarding legends.
We decided to get tickets to the biggest of the different events available, the Australian Grand Prix race day on Sunday.
Pictures of  the Formula 1 Australian Grand Prix, 2014
The spectators were ready hours before, and there were many other things to entertain them.
There was high wire motorcycling, skateboarding, an air show, old racing cars, face painting, music  and many other things.
The Grand Prix
The Grand Prix itself took two hours, and it was very intensive. It's hard to follow the cars at close distance as they pass with such a high speed that you hardly see them.
The winner of the Grand Prix 2014
The winner of the Australian Grand Prix 2014 is Nico Rosberg!
After the party, the seagulls came again, but the little baby parrot didn't come. I guess the noise was a bit too much for it.
But for us, this Sunday in Melbourne was a great experience, seeing how much the drivers work and how fast they really drive.
You wouldn't imagine how much is happening around a Formula one Grand Prix,  just watching it on television.
To get updated information on Formula Grand Prix in Australia read here about the coming Australian Grand Prix events. 
My other Posts on Melbourne
Day Trips from Melbourne:
Driving from Melbourne to Sydney: