This post is about driving in New Zealand, on the South Island West Coast. We take State Highway 6 south from Punakaiki Pancake rocks and drive down to Lake Matheson and Franz Josef and Fox Glaciers. Our 370 km West Coast drive continues to Haast where we turn inland. 
What is driving in New Zealand and on its South Island West Coast like, in an area of rugged coastline, stormy seas and green rainforests?
The West Coast is beautiful. It's backed by New Zealand's highest mountains. The mountains make that the West Coast is far away from everything. Only 40 000 people of New Zealand's total of 4,5 million live here. No cities exist on the West Coast, people live in isolate houses and small settlements. Even the internet doesn't work outside the settlements.
Lake Matheson with Mount Cook in the background, New Zealand South Island West Coast
West Coast makes a section (section number 2) on our South Island round trip.
To get to West Coast we crossed the mountains along the Arthur's Pass road from Christchurch and we left West Coast for Queenstown across Haast Pass. These are the two main roads to the West Coast and a third road in the north, the Buller Gorge road from Nelson.
You can find all posts on our South Island road trip on the New Zealand category page.
South Island West Coast Itinerary on the Map
The map shows our South Island West Coast driving itinerary, 5 hours of driving without stops which I of course don't recommend.
We stayed three nights on the West Coast, first in Greymouth in the north, then in Franz Josef Village in the middle and last in Haast at the south end, before turning inland.
I will show you West Coast attractions from north to south. The first attraction is the Punakaiki Pancake Rocks.
Punakaiki Pancake Rocks
Have you ever seen piles of petrified pancakes? I have. In Paparoa National Park near the small settlement of Punakaiki. These piled stones really look like pancakes. They are layers of limestone, separated by thin bands of soft stone.
There are thousands of piles like this in Paparoa and that all looks dramatic. The piles have not been like this from the beginning of time, they have been formed by sea storms and rain during thousands of years and they will be formed in the future.
Dolomite Point Walk to the Pancakes
To see the pancakes you only have to take a 25 min loop walk from the information centre on main road. Most of the pancakes are at the Dolomite Point so that's what the name comes from. The Dolomite Point walk is an easy walk and the first part is accessible.
Punakaiki Pancakes
But look at these layered limestones, Paparoa National Park pancake rocks! To view the small photos in a bigger size, click on them.
Pancake rocks of Paparoa National Park, South Island West Coast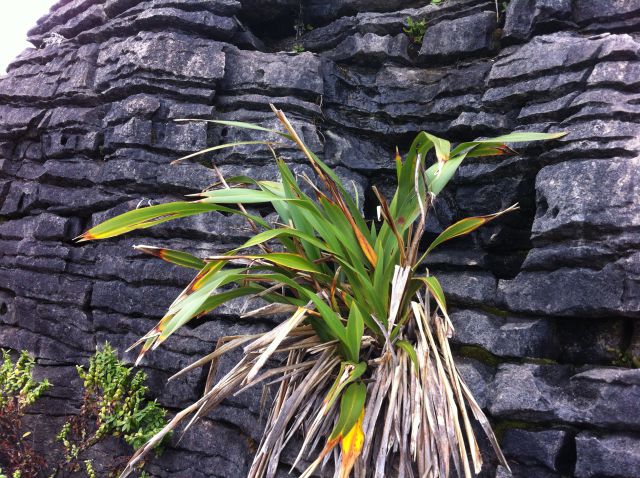 Truman Track Rainforest Walk
Paparoa National Park offers more walks. The 15-minute Truman Track takes you through a rainforest to a rugged coastline with caverns and blowholes.
Truman Track caverns become blowholes at high tide and during storms. The wind pushes the water into the cavern from where it explodes high up with a spray.
Walking on Truman Track, Paparoa National Park
Truman Track vegetation, Paparoa National Park
Punakaiki Beach
Truman Track also leads to Punakaiki Beach. Punakaiki Beach is sandy and looks pretty, but the weather doesn't make you want to swim. It's a cold and rainy day, like many other days in this area. The South Island West Coast is a high rainfall area. It rains 5000 mm a year.
And there's one more walk, a 2 hour walk to a limestone formation that's called the ballroom overhang. But to see more of the West Coast we skipped that walk and headed 43 km south to Greymouth, first driving in a deep rainforest.
Punakaiki to Greymouth
Driving in New Zealand: West Coast rainforest
Greymouth with its 13 500 inhabitants is the largest town on the West Coast. It's and old gold and coal mining town and it still is the center of a coal mining area.
Greymouth also is a greenstone town. It is that since the 14th century when the Maoris settled in the area in. They came to West Coast for greenstone, jade, that they found at the mouth of the Grey River. You can learn about greenstone at the Greymouth Jade Boulder Gallery.
West Coast cattle
As the biggest resort on the West Coast Greymouth has developed to an adventure center that offers commercial tourist activities: drafting, dolphin watching and so on.
But we didn't want to take any tourist activities in this weather so we took State Highway 6 from Greymouth to the next settlement that has a nice name, Hokitika.
Hokitika
Hokitika is in a stormy location. It was rainy and windy and there had been a huge storm a week before cutting trees in forests and gardens. But this weather is not bad at all, there was a time when 32 shipwrecks occurred on Hokitika coast, all within three years.
Hokitika was an important town during the gold rush and many buildings still remain from that time, like the clock tower and the Carnegie Library that you can see on the photos.
To see all 22 historical buildings you can walk a marked heritage trail and to see glowworms there's a glowworm walk.
And since Hokitika too is a tourist town there are more attractions: an aquarium, a gold-mining museum, a kiwi centre and jade galleries.
Hokitika to West Coast Glaciers
But it's still 150 km to the glaciers where we booked the next night so we have to drive again.
South Island West Coast roads are good and there's hardly any traffic. I like the place names in road signs : Lake Mahinapua 10 km south of Hokitika, followed by Pukekura, Harihari, Whataroa. The village of  Ross 28 km south of Hokitika has a gold-mining museum with the largest gold nugget found in the region.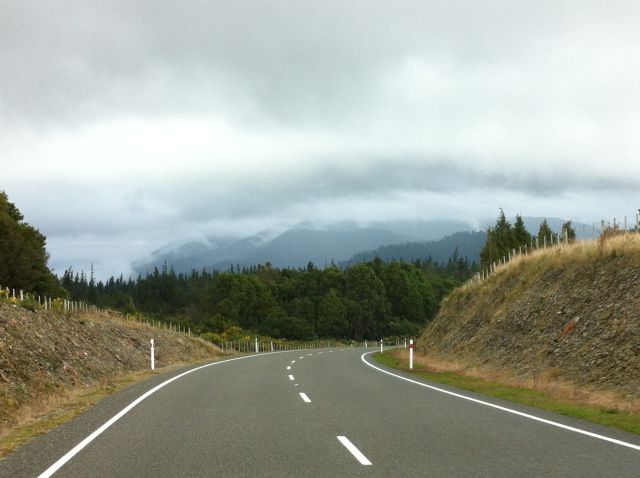 Driving in New Zealand: South Island West Coast
West Coast Jade Rivers
West Coast has many pretty rivers and many of them contain jade. But it's not the jade that gives the rivers their colour, it's small particles that come from melting glacier ice. West Coast rivers are mountain rivers and we are approaching the glacier mountains.
New Zealand: South Island West Coast rivers
Franz Josef and Fox Glaciers
And then, the mountains get higher and we reach Franz Josef Village, a place where we stayed a night in the rainforest, bathed in hot pools and looked for kiwis in a kiwi house. … And above all: we went to see the Franz Josef and Fox Glaciers.
Of the 140 New Zealand glaciers only two reach from the 3000 m mountain to the rainforest at 250 m: the Franz Josef and Fox Glaciers.
These two glaciers are incredible and worth their own post.
We walked to both glaciers and I will tell you about our glacier walks in my next post New Zealand: Franz Josef and Fox Glaciers. In that post I will also tell about Franz Josef Village.
This post continues with the next attraction 6 km from Fox Glacier Village: Lake Matheson.
Lake Matheson

The Glacier country also has lakes and the most famous of them is Lake Matheson. Lake Matheson is what you see on all New Zealand postcards. On calm days the lake shows stunning mirror-like reflections of Aoraki Mount Cook and the other snow-capped tops next to it.
They say the reflection looks best in the early morning so we made a morning trip to Lake Matheson, the reflecting lake on New Zealand South Island West Coast.
These photos are from the village where you turn to Lake Matheson from State Highway 6. We saw some pubs where walkers were sitting outside having their breakfast and some other buildings looked like hotels.
Walking to Lake Matheson
Driving in New Zealand: view from the Lake Matheson road
To see Lake Matheson and the postcard view: take a 40 min walk (20 min one way) from the Lake Matheson Cafe car park. The track crosses the river to an ancient rainforest with kahikatea and rimu trees, the exotic forest makes you believe you are in a fairytale forest. Never seen a forest like this!
Less than halfway along the lake is the Jetty viewpoint where you can watch the world famous reflection.
Lake Matheson from the Jetty viewpoint
Can you see the dark brown colour of the river and the lake? That's what makes the reflection so special. The dark colour comes from organic humus in the water.
My best Lake Matheson postcard photos:
Lake Matheson view to Aoraki Mount Cook and Mount Tasman
Enjoying Lake Matheson on a sunny morning, New Zealand South Island 

Aoraki Mount Cook, 3 724 m, and the Fox Glacier seen from Lake Matheson
If you like you can continue and take the circuit track around the lake. There are two more lookouts with similar views, the View of Views at the top of the lake and the Reflection Island on the opposite side.
The walk around the lake will take approximately 1,5 hours and it's all the way forest.
More on Lake Matheson and the walkway on the Lake Matheson website.
Bruce Bay and Lake Moeraki
After Lake Matheson the State Higway 6 runs through a forest until it meets the Tasman Sea at Bruce Bay at the mouth of the Mahitahi river.
The pretty beach is partly sand, partly moraine from the glaciers and it must be a windy place most time of the year. At least there's tons of drift wood that Ocean waves have carried to the beach.
From Bruce Bay it's still 80 km to Haast, forest again. And then, in the middle of the forest there's a lake with a strong blue colour, Lake Moeraki.
Lake Moeraki, New Zealand South Island
Knights Point Lookout

Just south of Lake Moeraki is the scenic Knigts Point Lookout with great views of the Haast area coastline and the Tasman Sea. The viewpoint was built in 1965 when the road from the glaciers to Haast opened. So the road opened first in 1965?
If the timing is right you might spot seals, dolphins and penguins.
There should be a penguin colony and the best time to watch them is August to November on late afternoon or early morning. Penguins only exist in the southern hemisphere so try to see them once you are in New Zealand.
Ships Creek
Ships Creek is our next destination, a wonderful place for a stop. There is a river mouth and a sandy beach with fine sand dunes and some driftwood. I liked the lagoon with dark brown river water.
Ships Creek beach, New Zealand South Island 
Ships Creek has two short walks. The 30 min Dune walk takes you along the beach to a small dune lake and the Kahikatea Forest Walk, maybe a bit more than 30 min, brings you through a Kahikatea swamp forest to a forest lake with seabirds. This is a place for bird lovers!
Ship Creek with its two beautiful nature walks is worth a stop. They have built good boardwalks on the dunes and through the dense coastal swamp forest so it's very easy to walk here.
And our last West Coast destination is Haast, before State Highway 6 turns inland.
Haast
State Highway 6 bridge crossing Haast River
Haast really is a small community. It only has 300 inhabitants, one or two general stores, a gas station, some dining and accommodation for visitors – and a possum and merino gift store. So there's not much to see in the township itself but the surroundings are magnific: the Haast area has been declared the South West New Zealand UNESCO World Heritage Area.
We arrived at Haast in the evening and continued our journey the next morning so there was no time for more activities than a walk on Haast Beach, along a side road to the fishing village of  Jackson Bay (36 km south).
Haast Beach
Driftwood on Haast beach, New Zealand South Island
Walking along Haast beach
Haast is blessed with national parks. It is on the western edge of Mount Aspiring National Park. My next post will show you the UNESCO listed national park as we drive inland from Haast.
More on New Zealand Travel

This was section number 2 of our New Zealand South Island round trip. You will find all other sections on my New Zealand category page: