Aoraki Mount Cook is on the absolute top of New Zealand's South Island. We took some great short walks in Mount Cook National Park that has New Zealand's largest glaciers and highest mountains.
We had a great day out in this World Heritage site and saw snow-capped mountains, icebergs and glacier lakes, all under what is said to be the clearest skies of Southern Hemisphere.
My post Short Walks in Mount Cook National Park is a part (post number 8) of our New Zealand South Island road trip. You will find all the other posts and the whole route description on my New Zealand South Island main page: New Zealand South Island Road Trip in 11 Days
Aoraki Mount Cook National Park covers more than 70,000 ha of stunning alpine landscape: high peaks, lakes and rivers, snow and ice.
There are 140 peaks that are more than 2000 meters high and round 20 that are over 3000 m. The Mount Cook mountain itself is New Zealand's highest peak at 3754 m.
This is Aoraki Mount Cook,  3754 m.
Glaciers cover 40 per cent of the National Park. There are 75 glaciers in all and the five big valleys of the national park have huge glaciers that are the largest in New Zealand.
The five big glaciers are the Tasman, Mueller, Hooker, Godley and Murchison Glaciers of which we visited two, the Tasman and Mueller Glaciers.
In addition we saw smaller glaciers, blue and green lakes, glacier moraine walls and a lot more.
The name Aoraki Mount Cook comes from the mountain's original Maori name Aoraki and its European name Mount Cook. The official name is Aoraki/Mount Cook.
This is Tasman Glacier and the Tasman Glacier Lake.
Aoraki Mount Cook National Park on the Map
Aoraki Mount Cook is located in the middle of the South Island of New Zealand, 300 km (4 hours) from Christchurch and 250 km (3 hours) from Queenstown. But now the walks:
Two Short Walks in Mount Cook National Park
We hiked two short walks in Mount Cook National Park. They were
the Blue Lakes and Tasman Glacier Lake View Walk to Tasman Glacier Lake and
the Kea Point Track to Mueller Glacial Lake.
As we were touring the South Island of New Zealand with a campervan there was no time for more National Park activities but we were happy with this  – and hope to come back one day.
1. Tasman Glacier Lake Walk
To get to Tasman Glacier Lake you have to take a short 40 min return walk from a car park where you drive along the beautiful long Tasman Valley with tussock grassland and a river in the middle.
Tasman River flows to Lake Pukaki from Tasman Glacier through the lake with the same name.
In the valley there is a river crossing that looks like this. This is a typical New Zealand bridge, old, narrow and a scary, at least when you're driving with a big vehicle. Will the bridge hold and hope nobody else is there when we are…
Tasman Valley Glacier Trip on the Map
The map shows the driving route to the car park where the walk begins and you can also see the walk.
So you can drive all the way through Tasman Valley and you only need to walk the last bit. The road used to be in a bad condition but has improved a lot and it's now surfaced.
The first of our short walks in Mount Cook National Park is the Blue Lakes and Tasman Glacier View Walk.
Blue Lakes and Tasman Glacier View Walk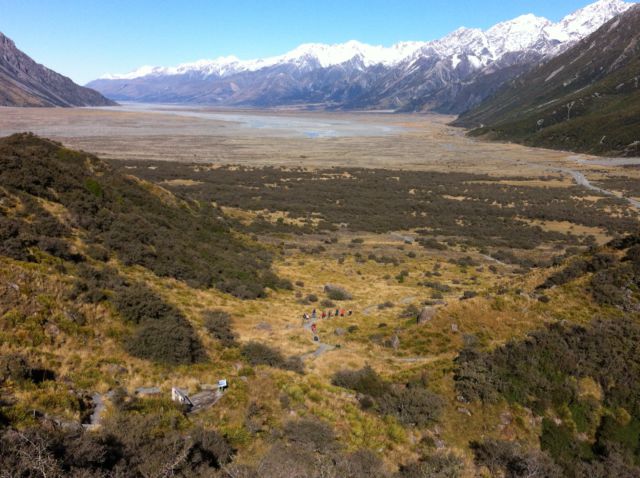 The well marked Blue Lakes and Tasman Glacier View Walk leads from the Blue Lakes car park up to a viewpoint on a stony moraine wall. Here you can see some people walking on the path.
It's a short and easy walk but the ground is rocky so you need to watch your step. The moraine has gathered here from the melting glacier. The photo shows how rough the track was in places.
Tasman Glacier Lake
Once you get up to the viewpoint the views really take your breath away. Below you have the large Tasman Glacier Lake that comes from the ice-melt of Tasman Glacier.
The lake has a beautiful grey colour and icebergs from the glacier are slowly floating on the lake. In these photos you can see some pieces of ice in the grey water.
On the opposite side of the lake you can see another moraine wall. The lake is big and it has been growing lately. It is today 7 km long.
Beyond the glacier lake you can see the partly white, partly grey Tasman Glacier that is the largest single glacier in New Zealand.
It is 24 km long (Measured in 2011) and up to 3 km wide. In its center the glacier ice is 600 m deep.
But the lake is getting bigger since Tasman Glacier is melting more than it used to do. In 1890 the glacier was 29 km long and by 2027 it's expected to be only 20 km. And the glacier also gets lower.
So our grandchildren will have different views from this viewpoint than what we can enjoy today.
After a long while in this stunning place we took the rocky path back.
Blue Lakes
The Tasman Glacier View Walk also has a Blue Lakes viewpoint half-way back from the Glacier Lake viewpoint.  From the Blue Lake viewpoint you can see blue – and green – mountain lakes. The first lake you see is not blue, it is green!
There are two green lakes in a row and first behind them comes the Blue Lake.
The blue water is meltwater that is older than the grey water in the lake. Grey water has large amounts of ground-up rock and when the rock flour finally settles the water becomes blue. In that stage there are fine rock particles left that make the colour.
And the green water? That's rain water, not from the glacier. So now we know that in New Zealand rain water can be green.
If you want to see more of the Glacier Lake, there is one more walk, from the car park to another viewpoint where you can see the Tasman Glacier terminal lake at the lower end of the lake. It is the place where the Tasman River begins. That walk is about one hour return.
But we didn't take that walk. Instead we headed back to the village and took the second of our short walks in Mount Cook National Park, the Kea Point Track to Mueller Lake.
2. Kea Point Walk to Mueller Glacial Lake
Kea Point Track starts from the White Horse Hill campground and car park and it is a 2 hour return walk along an easy path, not as rocky as the other track was.
You can see the track and the campground in these photos.
The Kea Point track first passes through grasslands and then starts ascending a moraine hill. The walk leads to a viewpoint that gives splendid views of Mueller Glacier Lake. On the track you can also see alpine birds and flowers. Altogether there are 750 different native flowers in Aoraki Mount Cook National Park.
Map of Kea Point Walk
You first take the road to the White Horse Hill car park and start walking from there, or you can walk all the way. It's not a long distance.
Mueller Lake
This is the dramatic Mueller Lake. And as we know the turquoise water colour comes from glacial melted water that contains ground rock.
From the Kea Point viewpoint there also is a direct view to Mount Cook, the highest mountain in New Zealand and the deep Hooker Valley in front of Mount Cook.
And we saw the huge Mueller Glacier hanging right in front of us, it's the clean turquoise ice in the small photo left.
As we stood there we saw parts of the glacier break and fall down so Mueller Glacier is melting too. Some more strong-coloured melt waters:
After we had finished the Kea Point Track we still walked along the Hooker Valley Track to get a view of Mueller Lake from the other side. The track was nice to walk but Kea Point offered a much better view of Mueller Lake.
Then, after we hade done all these short walks in Mount Cook National Park we were hungry and there were no restaurants nearby. In fact we hadn't seen any place to buy food and drink were we had been today.
But no worries, of course we had a complete kitchen in our campervan and what we needed so we took out our picnic tables and chairs and had a lunch on the dry tussock grassland of Mount Cook National Park.
Where to stay in Aoraki Mount Cook
The Aoraki Mount Cook Alpine Village is a good base for exploring the National Park.
The small village offers National Park visitors budget and luxurious accommodation, but since the number of beds is very limited Aoraki Mount Cook has not become a mass tourism destination, far from that and good so.
A range of mountain based activities is yet offered in the village. You can book a climbing or walking tour, go mountain biking, or you can fish or kayak or take a scenic helicopter flight.
This is frost in the morning in Glentanner Park Centre Mount Cook where we stayed. And this is scenery on the road to Glentanner.
Glentanner Park Centre Mount Cook is the closest camping to Mount Cook, it is on the roadside 18 km before Mount Cook. Of course there is the White Horse Hill Campground too but that's more like a basic campground where no such services as powered campervan sites exist.
Glentanner also was one of the few places in New Zealand countryside where we met and talked with foreign visitors. Our campervan had run out of gas and we had to cook in the common kitchen together with Chinese families, Swiss climbers and German kayakers, some of them to mention.
From Aoraki Mount Cook our journey continued to Tekapo that I will tell about later in another post.
More on New Zealand Travel
This post on Short Walks in Mount Cook National Park was a part (post number 8) of our New Zealand South Island round trip. You will find all other posts on my New Zealand road trip main page: