We made a New Zealand South Island road trip in 11 days and saw the best of this beautiful region. This post shows our South Island itinerary and the amazing landscape we were traveling in. 
New Zealand South Island is a nature destination. The whole New Zealand is pure nature and very rural.
You will notice you're almost alone on the road and that it's all the time a long drive to the next village – that probably is a handful of houses.
South Island has a mountain range in the middle, a lot of mountains and the highest ones are snow-capped. And there are hundreds of glaciers and mountain lakes. And all this is combined with subtropical rainforest lower down on the coast.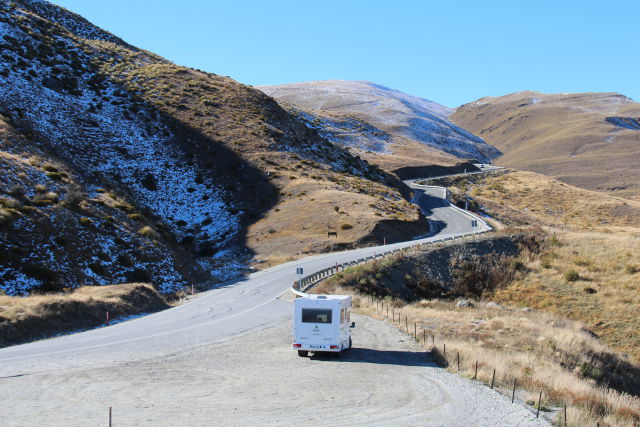 This is one of the winding mountain roads we traveled along. It's the road from Queenstown to Wanaka. As you can see New Zealand roads are good and wide. It's just the bridges that are narrow but they too are wide enough for a campervan.
I recommend you make this trip in a campervan. You don't have to worry about meals and accommodation nor plan too much, you just travel. Driving in New Zealand is easy, just remember to keep left at all times.
But our trip: where did we go? I put our route on the map:
New Zealand South Island Road Trip Initerary
So this is our 11 day South Island driving itinerary, 1600 km according to Google, plus a number of side trips. In all maybe 2000 km or something. That makes 180 km per day which is not much.
But driving always took us most of the day since we stopped so much. We hiked where it was most scenic, mainly short hikes, had a lunch or coffee and continued driving. And we stayed the nights in holiday parks or campsites that there are many of. You just have to know where they are.
As we saw so much in 11 days I divided our South Island road trip in 9 sections and made separate blog post on each. Here it begins, from Christchurch to Greymouth and down the West Coast…
1. Christchurch to Greymouth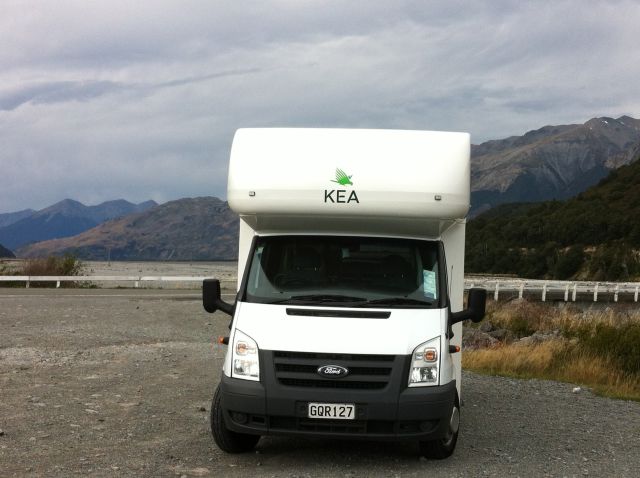 My first post tells you how to prepare for your New Zealand road trip and how to rent a camper. Then we cross the mountains from Christchurch in east to Greymouth in west where we stayed the night.
Driving distance Christchurch to Greymouth is 250 km and you will climb up to 920 m.
2. South Island West Coast
So we came to West Coast where we first took the coastal road (partly in rainforest) north to Punakaiki Pancake rocks that really look like pancakes. Then we turned back south and followed the West Coast road all the way to Haast.
We were travelling in autumn and it was cloudy and a sometimes rainy at first but lower down the coast the skies were clear and we had beautiful sunshine.
Our West Coast drive was 370 km which we did in two days, spending a day hiking to Fox and Franz Josef glaciers.
3. Franz Josef and Fox Glaciers
Dont' miss the glaciers on West Coast. We stayed overnight in a camping site deep in the rainforest and then hiked to both Franz Josef and Fox Glaciers. They are located close to each other and just a short hike is needed from the car parks. Franz Josef Village also has wonderful hot pools, try that in the evening!
4. West Coast to Queenstown
The next night we stayed at Haast from where we turned inland, up the mountains along Haast River. While it was rainforest on warm on the coast the mountains had a real autumn with foliage and the weather up there was cold. Mostly below freezing point at nights and only around 7 to 10 C at daytime.
But we didn't mind the cold weather, we walked and hiked and our camper had heating. We  saw many mountain lakes like Lake Hawea and Lake Wanaka and stayed the night close to Wanaka. On the way down we took the Cromwell road to Queenstown.
The distance Haast to Queenstown is 260 km and closer to Queenstown it gets less rural. In Kawarau Gorge you can take activities like gold mining, river boating or bungy jumping (which we didn't):
5. Queenstown Autumn Walk
Queenstown was the first city after we had left Christchurch, so we enjoyed city life. We went to restaurants, shops and cafes and walked on Lake Wakatipu shores.
We stayed two nights in the area but could have stayed longer as we didn't have time enough for the activities we wanted to take: lake cruise, cable car to mountain top, river boating, maybe helicopter ride to Milford Sound…
6. Queenstown Day Trips by Car
But we made two fantastic short trips out from Queenstown, first to Arrowtown in the north and then to Kingston in the south.
Arrowtown is an old mining town with historic buildings, it's a very pretty place. Kingston is a tiny community at the southern edge of Lake Wakatipu. We went there since we wanted to drive along Wakatipu lakeshore and see the lake and Kingston was where we turned back.
The road continues to Milford Sound. It's a huge distance to drive knowing what the roads are like. You can go there if you are on a two week South Island road trip or if you skip someting else. But we only had 11 days…
7. Queenstown to Mount Cook
As we didn't travel longer south from Queenstown we turned back towards Christchurch. We took the road to Mount Cook National Park that has the highest peaks of South Island. And to see more peaks and snow we took the Crown Range mountain road to Wanaka.
In Wanaka we returned to our campsite Glendhu Bay. It was a great place on the lakeshore and close to hiking trails. But we still had a long drive across Central Otago.  A beautiful area and exactly what you expect to see in New Zealand. The drive from Queenstown to Mount Cook was 300 km in all.
8. Short Walks in Mount Cook National Park
We were now on the top of New Zealand, and we were that even when we didn't climb Mount Cook, 3754 m. Instead we walked two short hikes: to Tasman Glacier and to Mueller Glacial Lake.
Aoraki Mount Cook National Park looked stunning in clear autumn weather. I think autumn is the best time to visit New Zealand, the weather is very clear and  autumn colors fantastic.
We stayed a night in a camping centre south of Aoraki village and as we suddenly got some problems with our gas bottle we exceptionally prepared our dinner in the campsite kitchen, together with German climbers and Chinese tourists.
9. Mount Cook to Christchurch
And then, last but not least, there was the long 370 km drive to Christchurch in green Canterbury farming landscape.
But before Canterbury we were still in the Otago highland and there were the two magic lakes: Lake Pukaki and Lake Tekapo. I could take hundreds of photos on these lakes – and I really did. This is just a sample of my photos and the post on the Mount Cook to Christchurch drive includes another sample.
Lake Tekapo has the famous Church of the Good Shepherd on the lake's edge and there are the Tekapo Hot Springs located next to the holiday park. And one more thing on the way to Christchurch: the turquoise Rakaia Gorge.
And then, we were in Christchurch, a city recovering from a severe earthquake. We took a tram ride and the cable car to the top of Banks Peninsula where we hiked, once more before taking our flight back to Sydney and on to Europe.
If you have made a South Island road trip, was it like ours or where did you go? What would you recommend in addition to my itinerary? Or instead of it?