If you are visiting Washington DC make a day trip to Old Town Alexandria. Alexandria just south of Washington DC is a pretty 18th century town that once was an important port and commercial center.
Many historic buildings still remain in Old Town Alexandria and the town has a nice small-town atmosphere with boutiques, restaurants and sights connected to American history.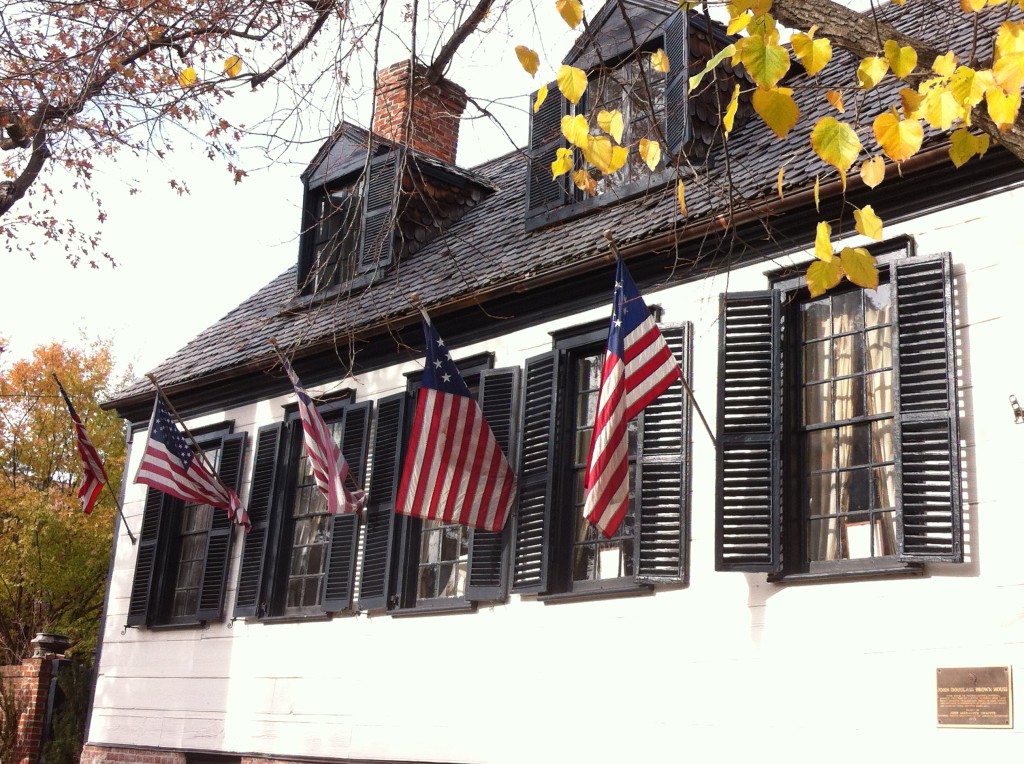 To make a day trip to Old Town Alexandria from Washington DC you just have to take the subway. Take the blue or yellow Washington DC subway line south. Just a few subway stations after the Reagan Airport and you will arrive at the historic Old Town Alexandria.
The Old Town of Alexandria is located by Potomac River, a couple of miles from the subway station but that will not cause a problem, there is a free tourist bus every thirty minutes.
It is a red bus and there is the sign King Street Trolley. You can take the King Street Trolley all the way to the harbor and start walking back.
Day Trip to Old Town Alexandria: the Map
The map shows you the itinerary of this Washington DC day trip to Old Town Alexandria south of the city. This is the subway itinerary. If you want to drive, there's a good highway to the airport that goes on to Alexandria.
So we took the King Street Trolley all the way to Alexandria Harbor:
Alexandria Harbor
To begin with, have a look at the harbor. It's quite pretty. You can walk along the waterfront and see Washington DC at distance. And there are ferries to get back to Washington DC if you want to try water transport on your way back.
The blue tower in the picture is a restaurant. When we visited many people were having lunch in Old Town Alexandria and harbor restaurants were fully booked.
King Street
King Street begins in the harbor. It is Old Town Alexandria's main thoroughfare where you can find most shops and restaurants. Old Town Alexandria has a lot of pretty small artisan and handicraft shops.
Click on the small photos to see them in a slideshow.
 Sunday Lunch in Old Town Alexandria
We were looking around and wondering where to have our Sunday lunch and decided to try a seafood restaurant in the main street, a restaurant with a nice outdoor sitting area on the pavement.
The Wharf (that was the name of the restaurant) turned out to be a good choice. It was a very good seafood restaurant. They served us fresh and tasty seafood and salad and we enjoyed Old Town Alexandria November sun with a lunch, beer and white wine.
Historic Alexandria Houses
The oldest houses of Old Town Alexandria are in the side streets. Look at these! And there are so many more of them than these.
Back to the station
When you think you've seen Old Town Alexandria it's just to get back to the station. Start walking back and take the King Street Trolley to the subway station, you can take it from any bus stop marked with a trolley sign.
More Things to See on a Day Trip to Old Town Alexandria:
On the way back to Washington DC you can take the blue subway line and visit the Arlington Cemetery. The cemetery is just a short walk from the subway station with the same name.
In case you feel like shopping on the way back there's a big shopping mall in Pentagon City, also an easy walk from the subway. And of course there are many more sights to see in Pentagon.
More on Washington DC
If you are planning a trip to Washington DC these posts might interest you too: