This post on the scenic route Christchurch to Greymouth begins a series of posts on our campervan trip around New Zealand South Island. We bought flights to Christchurch, rented a campervan at the airport and set off from Christchurch to Greymouth and down the West Coast. 
The Alpine road from Christchurch to Greymouth takes you across the Southern Alps, from the Pacific Coast in the east to the Tasman Sea in the west. The highest point on the itinerary is Arthur's Pass at 920 m.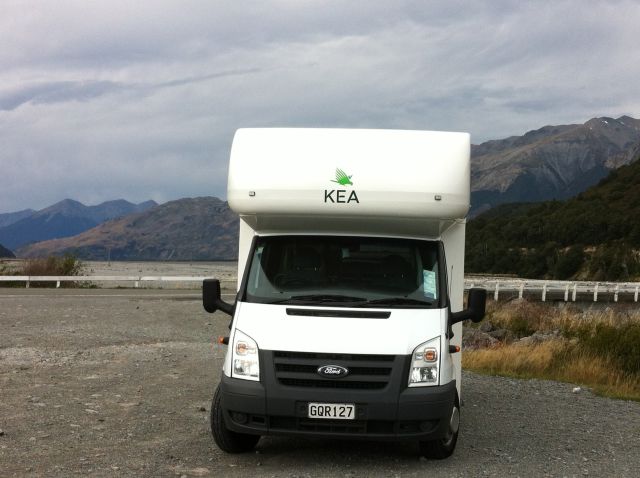 This is our rental campervan, a Kea camper. Kea is a New Zealand parrot that we also got to know on this road trip.
Road Trip Christchurch to Greymouth Map
The map shows our itinerary across New Zealand South Island, from International Airport of Christchurch  to Greymouth on the West Coast.
The distance from Christchurch to Greymouth is less than 250 km and driving time 3 to 4 hours without stops.
But what is campervan travel in New Zealand like?
Planning a New Zealand Campervan Trip
We landed on late afternoon so our first day's program was to get a campervan, drive to a supermarket and fill the kitchen with fresh, delicious New Zealand foodstuff and good New Zealand wines. And to hit the road.
Yes, and of course we had to get a New Zealand sim card. We needed it to one of our phones to share the connection to all our devices. Luckily Vodaphone had a desk at the airport with lots of staff serving incoming visitors. In two minutes we were connected!
Where to Rent a Campervan
We booked our campervan a long time in advance, right after we had booked the flights.
After examining different campervan company websites we finally booked on a site that compares different service providers. On those sites it's easy to compare the rates and what they include and what they don't. It all worked well and we got what we wanted.
Every time we have rented campervans we have counted it's worth choosing the complete package that includes everything: insurance, gas, linen, kitchenware and camping table and chairs.
Where to Stay the Nights
On a campervan trip you normally stay the nights in holiday parks or on campsites. You need power, light and heating. Maybe you also need a shower and a toilet – if you don't have them in the camper.
You should check in advance if there is a holiday park where plan to stay.  No website lists them all so you have to search. A helpful address might be is the New Zealand Holiday Parks Association website. It shows holiday parks on a map so you know where they are.
Parks often close their gates in late afternoon so contact them if you plan to arrive later than that. We never arrived early so we always had to contact them and check.
There are very few holiday parks between Christchurch and Greymouth and we were wondering where you could stay. And then we found a camping ground in Springfield that was perfect match for the first night: the Kowai Pass Camping Ground, Springfield. And the night after that we were already in Greymouth. Greymouth is a tourist area and has many holiday parks.
Driving from Christchurch to Arthur's Pass
This is Springfield. The landscape is lush and green since the coast around Christchurch gets a lot of rain. In the mountains again the nature looks dry and brown, at least towards the end of the summer.
We made our New Zealand campervan trip in April which is autumn. It is an ideal time for a South Island road trip. There is much less traffic than in summer (January-February) and you don't need to book your nights in advance.
In April there was no snow yet on mountain roads so driving was easy. We felt driving was safe at all times.
After Springfield the road starts climbing, you are in the Southern Alps. Some photos of the road in the Southern Alps:
It's not a long drive to the first pass, Porters Pass, 945 m, and the lakeland after that, Lake Lyndon. There is also the turn-off to the Porters Pass Ski Field, the closest ski field to Christchurch.
The road from Christchurch to Greymouth mainly follows the railway. That means you have to cross the rail track many times.
In fact you can also make a Christchurch to Greymouth trip as a day trip on the Tranz Alpine Express Train. Here is the website: Kiwi Rail Scenic Journeys. In addition there are bus tours – but a self-drive trip gives you more freedom. You are free to stop where you like, for instance to walk around this pretty mountain lake:
A blue and green mountain lake
Stopping wherever you like.
As I already mentioned we had a Kea camper. Kea is a New Zealand bird, though maybe less well-known than the kiwi. We were wondering if we would see those birds on our New Zealand road trip.
Next stop: Castle Hill village and rock formations.
Castle Hill
Castle Hill is a concentration of funny stones. Big limestone rocks are scattered all over a hill. You can climb on the rocks, and walk around and between them.
Castle Hill (or Kura Tawhiti) has a historical meaning to Maori. It was an ancient Maori meeting place.
Walking between Castle Hill limestone rocks.
After Castle Hill we crossed some tussock-covered plateaus, and then there was the Cave Stream Scenic Reserve. It is a limestone cave that has a stream inside and Maori art on the walls.
Lake Pearson and Purple Hill
Purple Hill
The Lake Pearson basin has arctic mountain beech forests that turn yellow in autumn. This reminds me of Lapland on the opposite side of the world where come from. There are no purple mountains in Lapland though. This arctic scenery makes a strong contrast to tropical West Coast rainforests that are not far away from here.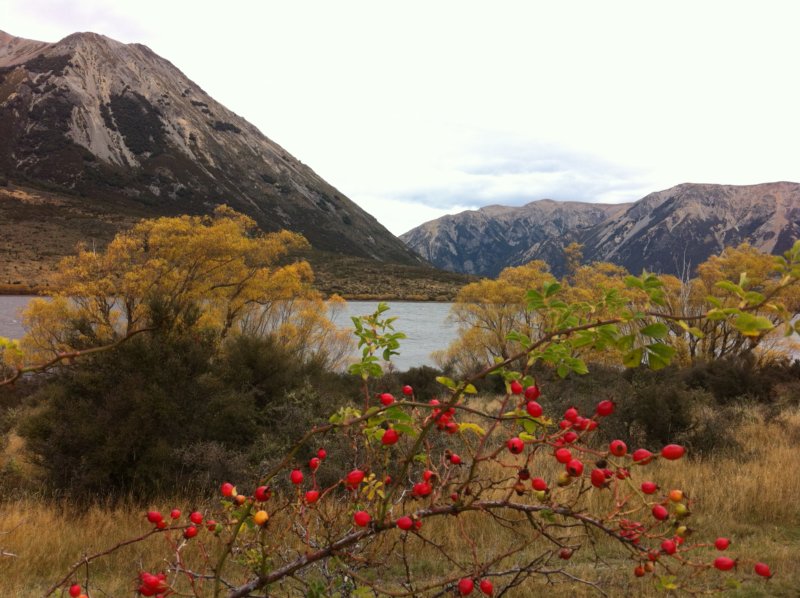 Waimakariri River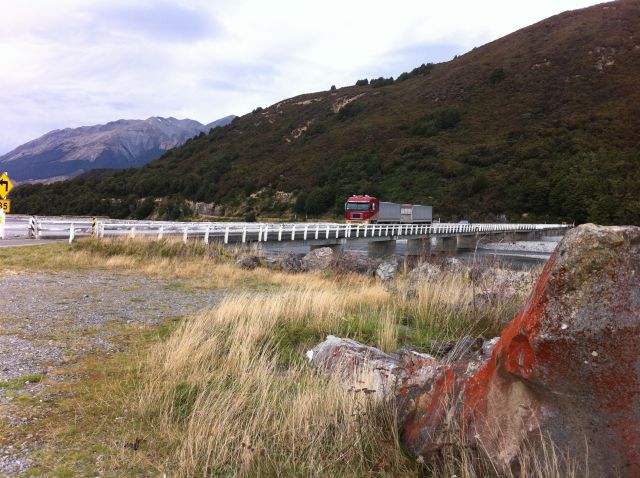 Many New Zealand rivers have beautiful Maori names. This is Waimakariri River that brings melt water from Arthur's Pass to the Pacific Ocean.
This is what most bridges in New Zealand look like, old, worn and incredibly narrow. But before you notice you'll get used to driving on this kind of bridges.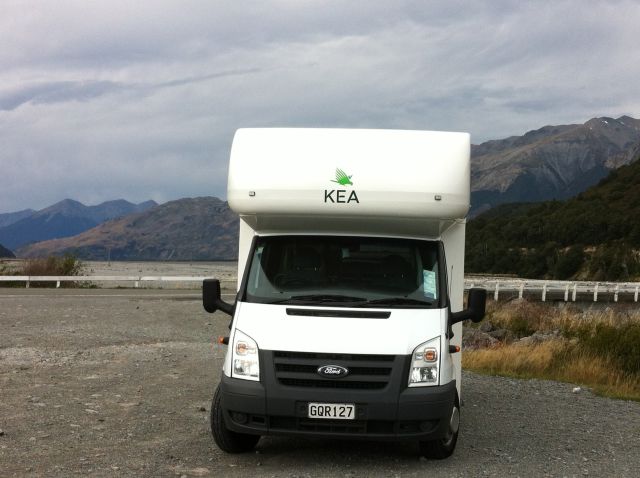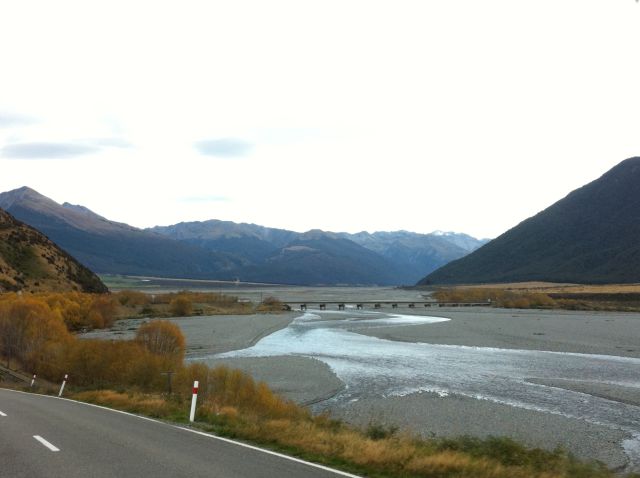 Waimakariri River seen from the road.
Arthur's Pass
In Arthur's Pass you are on the top of New Zealand. The pass divides South Island in two parts, the rainy east and the drier west.
The pass is surrounded by a national park that has sixteen peaks exceeding 2000 m! Arthur's Pass itself is at 920 m.
Arthur's Pass National Park offers great mountain landscape and nice walking tracks of which we tried the Devil's Punchbowl Falls hike. It's a short hike, about an hour uphill from the village through a mountain beech forest.
The Punchbowl waterfall is 131 m high. You can see the top of it in the photo, captured from the main road. Some photos on the Devil's Punchbowl Falls track:
Arthur's Pass has a small village centre 5 km east of the summit. The village originally was a camp of road and tunnel workers. The stayed here for years when road and rail connections from Christchuch to Greymouth were being built.
The workers built huts for themselves. Today the village is a base for walkers and skiers but some original tunneller's cottages still remain.
Arthur's Pass is home to alpine plants, and you can see native New Zealand birds like kiwi and kea in the area.
Kea Birds attacking Kea Campervan
After Arthur's Pass the road starts descending to the west .We pulled on the roadside to watch the views before driving down. – And what was that noise?
In a minute two or three Keas were there, eagerly pecking rubber parts from our vehicle roof and around windscreens. So it became a very short stop. There was no way getting rid of them other than driving away with speed. After some driving we stopped and checked if the Keas were still on the roof and they had gone.
So now we had met with Keas at a close distance and I hoped not to see any Keas again.
Arthur's Pass to Greymouth
The road descends deeply down to the West Coast. This side too has long bridges, most of them narrow like this:
On the western side the road follows the Taramakau River.
Taramakau River stone blocks have red stuff growing on them. It's a kind of moss that comes in other strong colours too.
As we are approaching the rainforest zone the landscape gets green, wet and cloudy – and before we noticed we were on the West Coast and in Greymouth.
This is one of the scariest bridges we had to drive on in New Zealand, a combined train and car bridge.
The journey will continue in my next post on the South Island West Coast. The post will show you the attractions and the beautiful scenery of West Coast. And from West Coast the journey will continueto the Central Lakes.
More on New Zealand Travel
This was section number 1 of our New Zealand South Island round trip. You will find all other sections and the whole route description on my New Zealand category page:
This was section number 1 of our New Zealand South Island road trip. You will find our whole South Island road trip itinerary here: