Miami Beach is an ideal destination for a bike trip. You can bike along Ocean Drive, the beach promenade and any quiet streets, enjoy the tropical scenes and stop where you like. To help you explore the best of the world-famous South Beach I made a Miami Beach bike route and marked it on a Google map. 
It's easy to get a bike on Miami Beach, there are many bike rentals.
Or you can just use an inexpensive self-service blue Deco Bike. Just take it and pay with your credit card. If there are not bikes available you can try to find one in bike holders outside the most crowded areas. So let's go exploring Miami by bike!
Ocean Drive, Miami Beach
About Miami Beach
Florida has 1600 km (1000 miles) of sandy beaches and Miami Beach is the most famous of them. Miami Beach is much more than a beach, it's a living city with its own South Beach atmosphere.
Miami Beach is on a sandbar that is connected with bridges to Florida mainland. The first bridge was built in the 1920s so until then Miami Beach was on an isolate island.
Later in the 1930s hundreds of stylish art deco houses were built in the southern part of Miami Beach, now called South Beach. Today as many as 800 of these beautiful art deco houses still remain.
Miami South Beach, a beach hut
So on your trip to Miami South Beach is a must see place. There are the art deco houses and the great beach with its colorful beach huts, but also other attractions like Lincoln Road, Espanola and the South Point.
Miami Beach Bike Route on the Map
The map shows Miami Beach and in fact the southern part of it, the famous South Beach that is the most interesting area for tourists.
The bike route is marked on the map. You can start the bike route anywhere you want but I will show you Miami Beach sights starting with Ocean Drive.
Ocean Drive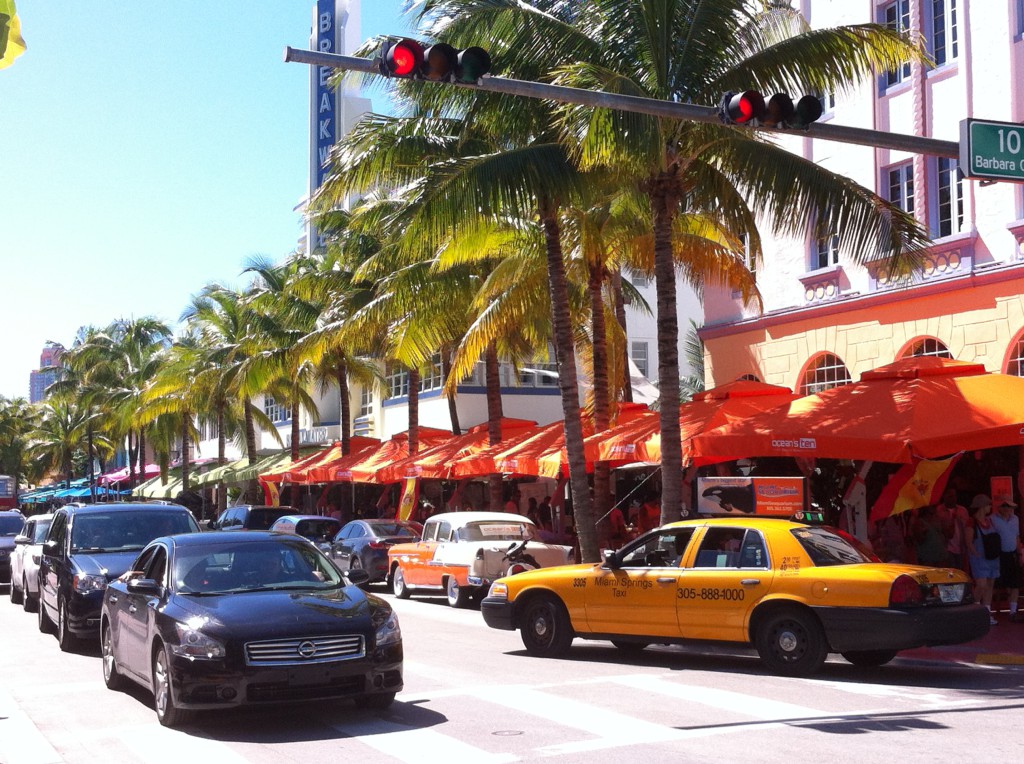 Ocean Drive is by far the most famous street of South Beach. It's opposite to the sandy beach and has a whole row of stylish art deco hotels, restaurants, cafés and bars, and many trendy shops.
There are always crowds of people walking around or sitting in their cars. You can't come here if you are in a hurry, the traffic is very slow. But it doesn't matter, this is Miami Beach.
Spend time at cafés and bars on Ocean Drive and feel the South Beach atmosphere. And of course afternoons and evenings are the busiest time on South Beach.
To get the greatest views of the art deco houses come to Ocean Drive in the morning or early afternoon, as long as the sun shines on the houses. In the afternoon the sun gets behind the houses and you don't see them that well.
There are houses with rounded corners, sharp corners, corner windows, flat roofs, vertical columns and they all come in all ice-cream colors. And most of the houses have only three floors.
If you want to see more art deco buildings, there are more of them on Collins and Washington Avenues right behind Ocean Drive, and all over the area. You will go there later on this Miami Beach bike route.
Miami Beach
The wide sandy beach with colorful lifeguard huts is miles and miles long.
The beach is very popular and often crowded with young local people of all ethnic backgrounds and tourists from all over the world.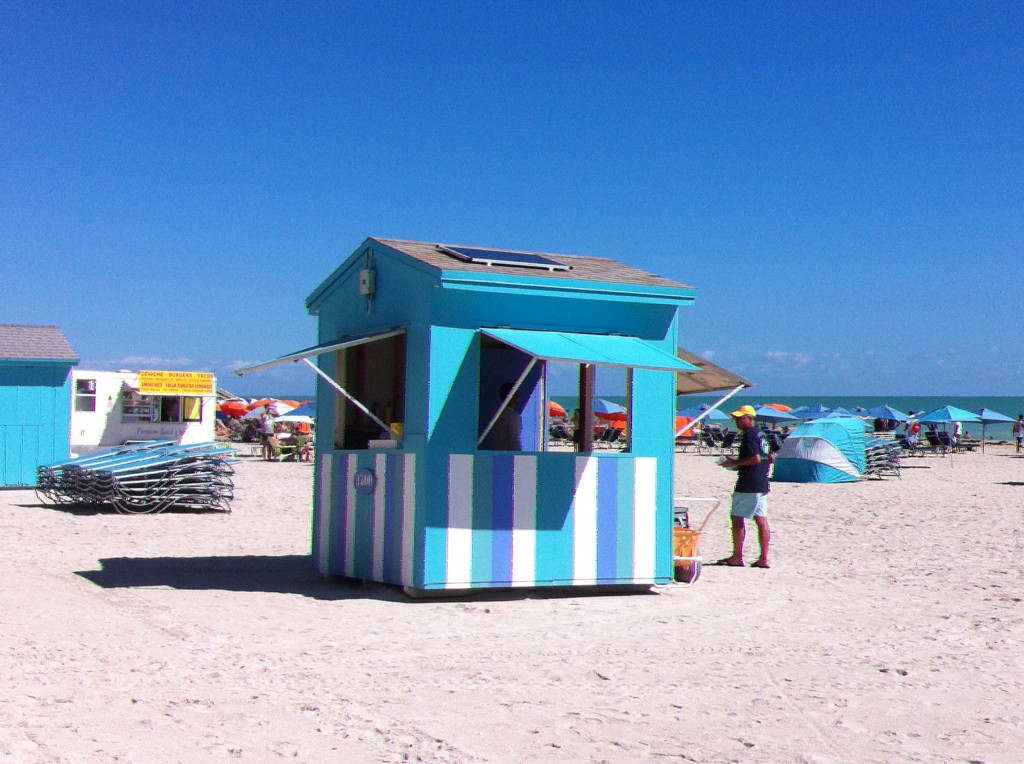 Lummus Park
Lummus Park is the green area full of palms between Ocean Drive and the beach of Miami. There is a walk and cycle way all the way along the Beach in both directions from Lummus Park.
The few Lummus Park buildings and even the benches in tropical colors are built in beautiful art deco style.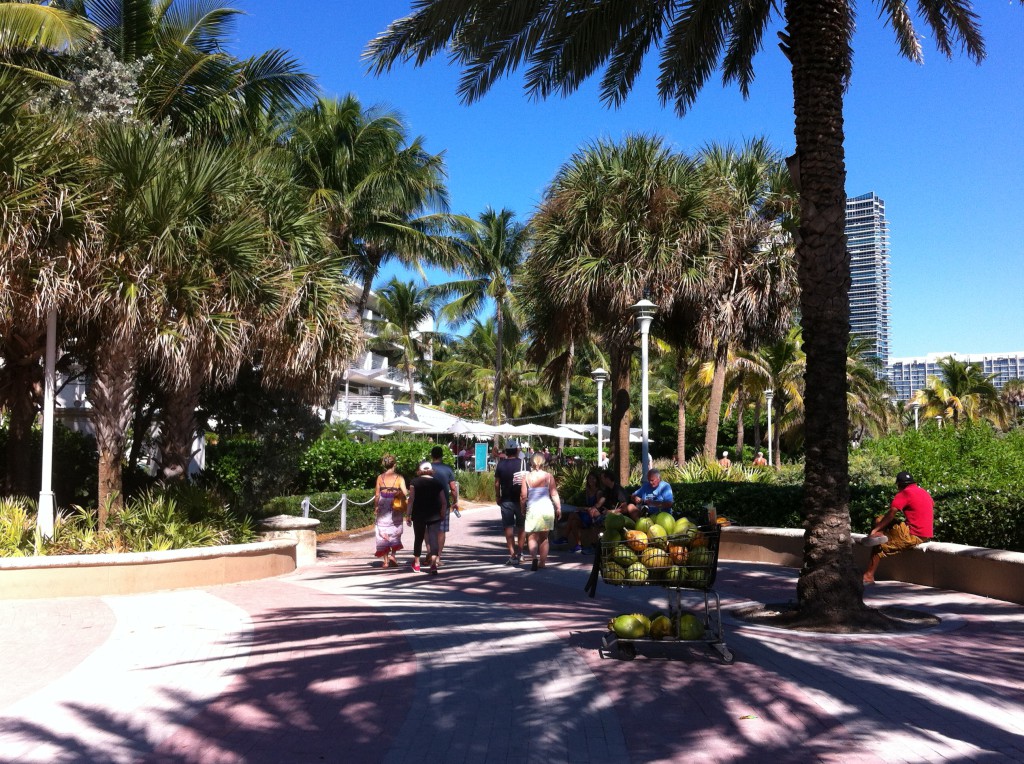 Lincoln Road Mall

Lincoln Road Mall is on the 17th Street. It's a beautiful walking area with shops, art galleries and lots of outdoor restaurants and cafés.
And on certain weekdays Lincoln Road Mall has a street market.
Lincoln Road is an excellent place for lunch or dinner, or just for people-watching.

Espanola

Between the 14th and 15th Streets beginning from Washington Street there is a small area with salmon-colored houses and red-tile roofs. It's like a piece of Mediterranean, here in Florida, US!
Espanola streets are packed with restaurants that mainly serve Spanish or Italian food. Like back home in Europe.
South Point
Now our Miami Beach bike route will take you to the southern part of the beach and Miami Beach Marina. Follow the beach path southwards from Lummus Park.
You'll come to a fishing pier (South Point Pier) where you get very close to the huge Caribbean cruisers leaving Miami Harbour. You could almost touch them when they pass you at a close distance in the narrow water-way.
The southern part of the beach is a good surfing area where the waves are bigger and it's not as crowded at all as on the main beach.
Here you can see a Carneval cruiser at a distance, on its way to Caribbean waves.
Miami Beach Marina

Further south the South Point Park has an amazing water playground for children.
The walkway is ideal for biking. Our route follows the shore all the way to the pretty Miami Beach Marina. Here  you can turn around and return the same way you came or just take the straightest way back to Ocean Drive.
You don't have to return the bike in Lummus Park, since you can return it to any of the dozens of Deco Bike points all over the South Beach area.
Miami Skyline
Before it gets dark you can still cycle to the end of 16th Street or Lincoln Road on the lagoon side of the island.  There is a small harbor where you get the most beautiful sunset view possible, with Miami downtown on the background.
More on Miami Travel