This post shows you a road trip to Western Madeira. The west is a dramatic area with high sea cliffs and terraced banana plantations on mountainsides.
Western Madeira is a less touristic area since it has always been hard to reach, until the Via Rapida with all its tunnels was built.
We however took the smaller roads, first to Camara de Lobos and Cabo Girao. We made Calheta the base for our road trip to Western Madeira. From there we went to Ponta do Pargo in the far west and Porto Moniz in the far north.
This post tells you what we saw and presents our driving route on the map.
Road Trip to Western Madeira Map
We took the old coastal road from Funchal and followed the coast all around the western part of the island. Half way along the north coast we took the Encumeada tunnel road down to Ribeira Brava where my Google map route search ends.
From Ribeira Brava we returned to our base Calheta but this is also the straightest road to Funchal from the north. But if time allows, take the old Encumeada pass road in stead of the tunnels and you can see even more.
We spent a few days on this trip, driving slowly and walking in between.  But if needed you can make it as a day trip from Funchal as well.
Our first stop was at Camara de Lobos, just a short drive from Funchal.
Camara de Lobos
This is Camara de Lobos, a pretty fishing village just a short drive from Funchal.
The painted fishing boats drawn up on the pebble beach tell that Camara de Lobos is a living fishing village. Most of Madeira's 800 fishermen live and work here.
Each night they leave their harbourside houses and work all night to catch espada. Espada is scabbard fish in English and it appears on every restaurant menu on Madeira. Espada is a boneless fish and it's mostly eaten with bananas.
The bananas, too, come from this area. Bananas are grown on terraced fields all over the Southern coast of Madeira. Here you can see Camara de Lobos banana plantations and hillside houses.
And this is the view when entering Camara de Lobos along the old coastal road. Bananas again, and the high cliffs of Cabo Girao at distance.
Camara de Lobos has a cluster of nice harbourside cafes and bars where you can sit outside to catch the afternoon sun. Despite the visitors Camara de Lobos still is and looks like a fishing village.
The fishermen still have their tiny chapel where you can step in and learn about their hard life. Storms, shipwrecks and drownings appear in the chapel paintings.
But these families are happy people, I know it. I was dancing on the street with fishermen's wives at night after the Cantar os Reis party. That was in Funchal. Such nice people!
Towards Cabo Girao
But we were on the way to Western Madeira and it was time to drive on. And as always we took the small roads since they give you so much more. Driving was slow but never mind, we stopped all the time to take photos and see more of the views. Look at the scenery!
Bananas are grown up to 300 m after which it's vineyards. In the winter vines look like this:

We followed miradouro (lookout) road signs and used Google maps offline for navigation and then unexpectedly we happened to find a cable car station.
Cabo Girao Teleferico
It was cool and windy since we were already more than half way up the Cabo de Girao cliff.
The scenery was almost frightening, and when looking down I was wondering why people want to live and cultivate the land down on the base of the cliff! It's so difficult to get there. Maybe the cable car is the easiest way for them to get to the village?
So the teleferico leads you down… to this place. I don't believe my eyes! It's a farmhouse.
This is the view to were we came from, towards Camara de Lobos and Funchal hotel zone beyond it. Not far away at all, but today is a day of slow travel.
There was a restaurant with stunning views, and of course they had a nativity stable here. Every village and almost every restaurant on Madeira has that for Christmas.
From the Teleferico we had to return the same route we had come along here, but only up to the next miradouro sign, pointing to Cabo Girao.
The roads here had lots of curves but they were not particularly narrow. There are no problems at all with driving on these roads if you can drive a car.
Cabo Girao 580 m
So this is the next miradouro, a glass-floored lookout more than half a kilometre above the ocean! And on both sides of the glass the floor was – like this:
The floor gives you a view down the sheer drop below you, a drop of 580 m! If the teleferico lookout was frightening, this one was even more that.
But it was not only frightening, it was interesting. You could see terraces for vines and vegetables directly on the cliff face and very very narrow paths carved on the cliff side since there must be a way to get to these terraces.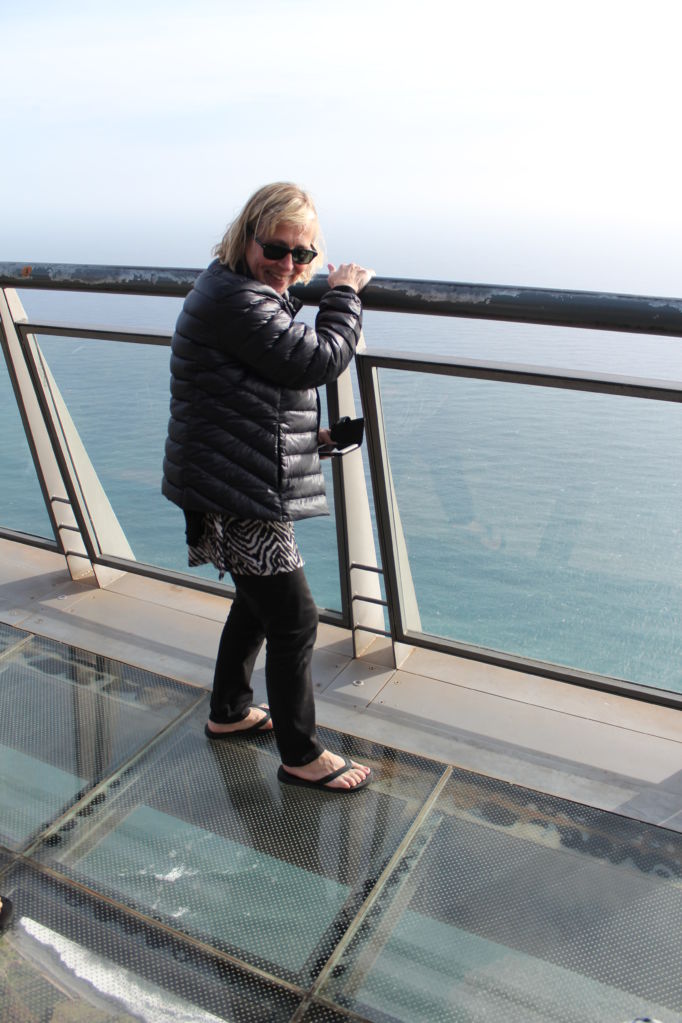 So from now on I understand why it's said the Madeirans use every single patch of land they have. But why do they grow plants here? – The cliff side is a warm place for the plants.
It was so cold up here and we had to take our down jackets from the car. One more look downwards from Cabo Girao, the second highest sea cliff in Europe, before driving down to warmer climate zones.
Via Rapida
This is west of Cabo Girao, beautiful terraced landscape where in addition to bananas other fruits like papayas and avocado are grown.
After some dozens of curves and bends we now decided to take the main road that you can see down here. When the new motorway Via Rapida was opened for traffic it cut driving time to Western Madeira.
Today you can drive to Calheta in half an hour from Funchal which saves you a lot of time compared to the winding roads like the one we took.
But to build a motorway on Madeira you have to make tunnels. There are tunnels everywhere, some of them some hundred metres and others 2 to 3 km long. Here is one of the tunnels:
The tunnel leads to Ponta do Sol that is located in a deep valley, between two tunnel openings.
Ponta do Sol
A sign tells that Ponta do Sol is Madeira's Christmas village, that's why they decorate that much.
Ponta do Sol means Sun Point. Unlike other coastal villages it gets the sun all day long. Due to high mountains most other villages are part of the day in shadow but Ponta do Sol has a more favourable location.
We came here for the sunset but in fact you should come at dark and see all the Christmas lights.
To see the village we parked above it and took the cobbled street down to the dark (almost black) pebble beach. The street is full of bars and cafes, a great place to spend time in.
The church is named the Church of the Lady of the Light and it has a pretty square in front of it.
There is a row of  beachfront buildings. They look like hotels but we didn't see hotel signs. Maybe holiday rentals? This probably is a nice place to stay at, and it is not a long way to Funchal.
Both higher up on the main road and at seafront this village is located in a narrow valley, and literally between two tunnels.
The beach itself is rough, maybe we have to find a better beach. So we went on to Calheta.
Calheta
Calheta looks a bit like Ponta do Sol but it has a sandy beach, imported from Sahara. And some seafront hotels and a marina with restaurants.
It looked like this could be our base in Western Madeira. In any case it was getting dark soon so we had to find a hotel.
We were driving up and down the seafront boulevard and found a Nativity Scene, a big one and then checked in the Savoy Saccharum Resort and Spa Hotel at the end of the boulevard.

Our Hotel in Calheta
This hotel attracted us, it sits in the mountain wall and overlooks the sea. There was a private beach right in front of it and the imported beach was at walking distance. And I liked this view with old houses next to the hotel. What a contrast.
Calheta is a sugar cane area and the hotel had used sugar cane and local building elements in its interior decoration.
We got a sea view room with sugar cane wallpaper! And the bed was 200 cm wide.
Some views of our room and views from the balcony:
Infinity Pool
We felt hungry at this point but it really wasn't dinner time yet. The first thing we wanted was to try the 8th floor infinity pool.
Amazing! I took a refreshing dip in the cool water and while swimming towards the sea I had ocean views and swimming back I had rock views.
Indoor Pool
Afterwards we tried the heated indoor pool that had great views as well. What a wonderful base for touring Western Madeira! So peaceful and balanced, yet knowing that there were so many other hotel guests. And we were so centrally located to the area!
The pool area was dark in colour and ultra modern like the whole hotel and old water pipes were used as interior decoration. Never seen anything like that!
Downstairs we found an exhibition on sugar cane farming and industry. And more building materials!
Somebody recommended us the hotel's a la carte restaurant so we decided to dine there.
The dinner was very good and as I asked about the wines the waiter gave us a presentation on Madeira wines. And he took this photo of us since we are not good at selfies.
We had an after dinner drink at the lobby bar and what did we find again, a nativity scene!
The first thing we met in the breakfast room next morning was – a whole wall of water pipes!
After a delicious breakfast that also contained local dishes we were ready for a walking-day. And after the walk we again used the pool but I was going to write about Madeira, not the hotel…
But anyway, for us, Savoy Saccharum was a peaceful place to come back to and relax after the days' activities and we liked the place a lot. If you got interested in having your base here is a link to their website for more information:
Walking in Calheta
So we had a walking day. We knew there were levadas higher up in Rabacal, with both short and long walks.
But as we didn't want to sit in the car today we started walking along the winding walkway that led up from the hotel and walked on roads up on the Calheta hills.
It was residential and farming area with vineyards and banana and sugar cane plantations between the houses. This residential area is a beautiful one and the sea and mountain views were great all the way.
Bananas
Below you can have a closer look at Madeira bananas. This small and very tasty banana variety is acalled Musa acuminata and it has been cultivated on the island since the 16th century.
These houses are like in a sea of banana plants and there's no space for anything else than bananas. Banana production is one of the island's main industries and a huge amount of bananas is exported to mainland Portugal and the rest is consumed locally.
Sugar Cane
The other important agricultural product in Calheta is sugar cane that we already met at the hotel. Sugar cane has been grown here since the 15th century when the early settlers of Madeira built terraced fields for sugar cane on hillsides.
Levadas were built to bring mountain water to sugar cane terraces and they even brought slaves when more labour force was needed on sugar cane fields.
Later on a sugar mill was built and Calheta became the centre of cane production on Madeira. This is sugar cane.
Vineyards
In addition there are the vineyards. This is what terraced Calheta vineyards look like in the winter. Like elsewhere the vines get autumn colours and drop their leaves for the winter.
Calheta Village Centre
It was great fun to walk on the hills and see the village from above.
On the opposite side of the valley you can see the modern Centro de Artes das Mudas, a cultural centre with contemporary art exhibitions.
And here you can see the man-made Calheta beach, well protected from the rough sea and also some very typical house roof details.
And here is the beach again, and a house roof covered by flowers.
This is the village centre of Calheta. A river (that you don't really see on the photo) is running through the village and there is a tiny square with a fountain, and a pretty church, Igreja Matriz from 1430 with a fine painted wooden ceiling.
The village centre is really small but there are some cobbled streets to walk along.
Engenhos da Calheta
And there is a sugar mill, Engenhos da Calheta. It's one of the two sugar factories that still remain on the island. This kind of factories were needed when the demand for sugar increased in Europe as a result of a raised standard of living.
Today Engenhos da Calheta distills sugar cane syrup into rum. The factory is open to visitors s you can visit and taste the product.

Calheta Seafront
These photos show the Calheta seafront: our hotel beach and the marina. In addition to restaurants there are companies offering whale and dolphin watching tours to the ocean.
Whales can be seen at certain times of the year and dolphins all year round.
A fisherman I was talking to told me you can even swim with dolphins but not in the spring when they have babies. At that time dolphin mothers defend their babies and are not friendly enough towards people.
On the next day it was time to continue our road trip to Western Madeira so we headed to west, first to Jardim do Mar.
Jardim do Mar
Jardim do Mar, "Garden of the Sea" is a village were old footpaths to different directions start. Here you can see a footpath going uphill to the mountains.
In the village the walkways have a beautiful stone pavement. The village is a maze of narrow walkways, too narrow to get into with a car and sometimes almost too narrow to walk.
So you have to leave your car outside the village.
You can walk down to the seafront where a wide pedestrian street has been built. From the promenade you get a view to sea and the steep sea cliffs and the next village Paul do Mar.
The alley to the beach starts in the village centre below this church.
Some more views of Jardim do Mar before moving on.
To the West
Western Madeira is a dramatic area. There are plateaus that drop straight down to the sea, green hillsides where roads have been carved and isolated seaside villages. This is Paul do Mar seen from the surrounding cliffs.
This part of the island doesn't have a motorway so driving takes its time. But there's no hurry, you are on holiday.

Despite the curves the road is very easy to drive and there's not much traffic you have to meet in curves. You partly drive in eucalyptus forest and partly in an open landscape.

Ponta do Pargo Lighthouse
Ponta do Pargo means "Dolphin Point" but the name doesn't come from dolphins, it comes from dolphin fish that fishermen catch in these seas.
This is the westernmost point of Madeira and there is a lighthouse that has an exhibition inside. The exhibition tells about all lighthouses on Madeira.
There are two lookouts (miradouros), the lighthouse and another one from where you can walk along the headland to the lighthouse. This photo is from this other miradouro:
And this is from the lighthouse. The headland is on high sea cliffs that drop straight down to the sea. Can you bear to look down?
I'm sure these men really don't understand where they are. Look at them!
This is from Ponta do Pargo lighthouse to the north. Can you see that the steep cliffs are terraced in some places? That means somebody is growing something in those patches.
Ponta do Pargo was the first place on Madeira where we saw levada signs – really. There is a long levada walk from here all the way to Calheta.
But where are all other levada road signs and why didn't we see any?
Porto Moniz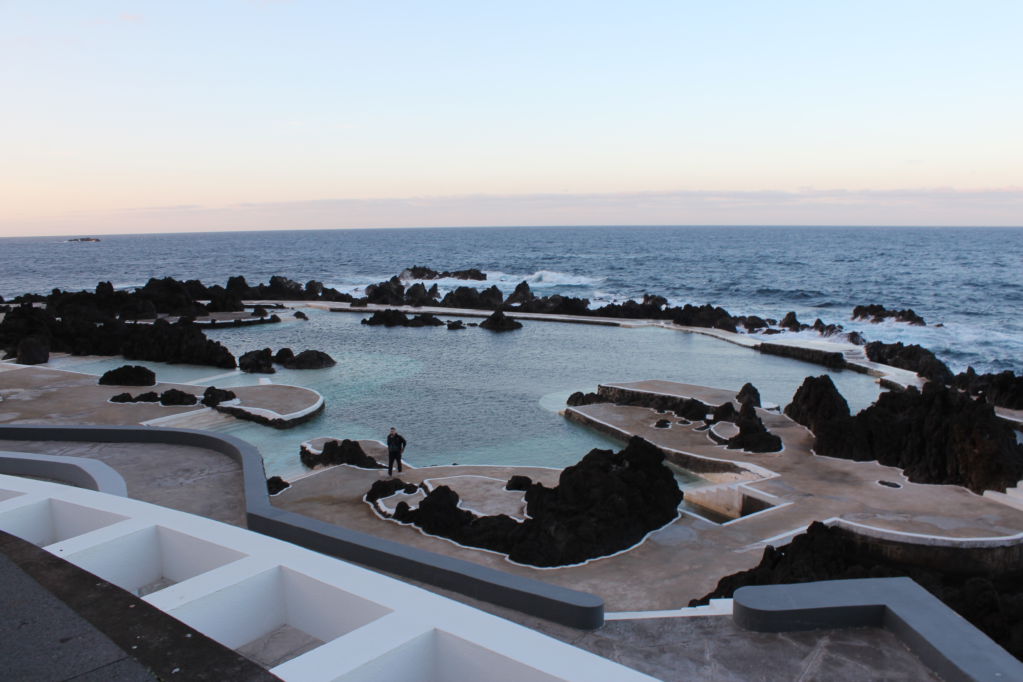 Porto Moniz at the northwestern tip of Madeira is in fact as far as you can get on the island. The village is famous for its natural rock pools and we too wanted to see these pools.
But compared to the south coast the weather was very cold here so nobody was swimming and we too had to wear our jackets.
It would be fun to swim here though. They have built concrete paths and stairs in between the volcanic rocks so it's easy to get to the pools.
The ocean is mostly too rough for swimming purposes so this is a wonderful way to enjoy the sea waters. The rock pool water is warmer than the sea and it is calm –  and they say you get a cooling showers from the waves when they break against the rocks.
But not today… there's no need for cooling showers.
The village itself has an upper and a lower part of which the lower part is touristic. You can see the upper part here.
Tourists found Porto Moniz after the new road with tunnels was built. Before that the area was isolated and if I understood right people lived without electricity.
Back to Calheta
To get back to Calheta we decided to take the tunnel road via Seixal and Sao Vicente and then through the Encumeada tunnel to Ribeira Brava, driving time an hour.
It was going to get dark in a very short time and at dark there's no difference if you drive in a tunnel or not. You won't see anything anyway.
I hope you liked this post on our road trip to Western Madeira and that the information was useful to you. If not, what more would you like to know?
More on Madeira Travel
Check out my other post on Madeira:
For more information on Madeira check out the official website of Madeira Tourism: