This post will tell you what to see in Slowinski National Park on the Baltic Coast of Poland. Slowinski is famous for its sand dunes that move 10 meters a year, pushed by the wind. Some of the dunes get high like hills and you can climb on them.
To get to Slowinski National Park we made a day trip by car from Gdansk. But you can also take the train to Leba that is the closest resort to Slowinski and rent bikes which is also a great way to explore the sand dunes.
On the way back we had a late lunch in a real country palace, Palac Ciekocinko.
The highest dune rises more than 40 meters above sea level and the moving sands leave stumps of dead trees behind them.
Slowinski National Park Day Trip on the Map
The map shows the location of Slowinski National Park on the Baltic coast and our day trip driving route from Gdansk. On the way to Slowinski you drive through an area called Kashubia.
Kashubian Villages
It was a pretty long drive, two hours one way and we didn't stop much. But when we saw this white church in the small village of Wicko we wanted to look at it.
The village church of Wicko lies on a small hill and the church looks very pretty. We couldn't get in but it was possible to look at the interiors through an iron gate.
Behind the church was a graveyard that looked pretty too. All Easter flowers in yellow and red people had brought here a week ago still remained.
The village was really small, only a few houses, and somebody was burning leaves in his garden. Another house had lots of fruit trees that were painted white to prevent insect damage. And there was a colorful village store and a nice leafy park behind it.
The other villages along our route were "normal" country villages that you drive through, not especially picturesque so there was no reason to stop. But if you take small country roads there should be many pretty villages. The area of Kashubia is famous for that.
About Kashubia
This region of Poland is Kashubia where a language called Kashubian is spoken. It's very much like Polish. At least the village names that we saw on road signs in both two languages looked almost identical.
Kashubia belonged to Germany until 1945 and is now a part of Pomerania, Poland. Despite the change Kashubia has kept its own food culture and traditions.
Leba
In Leba you're almost in the national park. Leba is a seaside resort with accommodation, a camping ground and restaurants, a marina and a railway station.
During summer local trains from Gdansk run up to Leba, it takes two hours like the car trip does. You can rent bikes in Leba. So if you don't want to rent a car simply take the train to Leba and rent a bike to visit Slowinski National Park.
In Leba the inhabitants have to face the fact that their surroundings are changing. The shifting sand is every year getting a bit closer to the village.
Slowinski National Park
Slowinski National Park stretches from Leba to Rowy. The greatest attraction are the shifting sand dunes. In addition there are two inland lakes and forests. Slowinski National Park is on the UNESCO list of World Biosphere Reserves.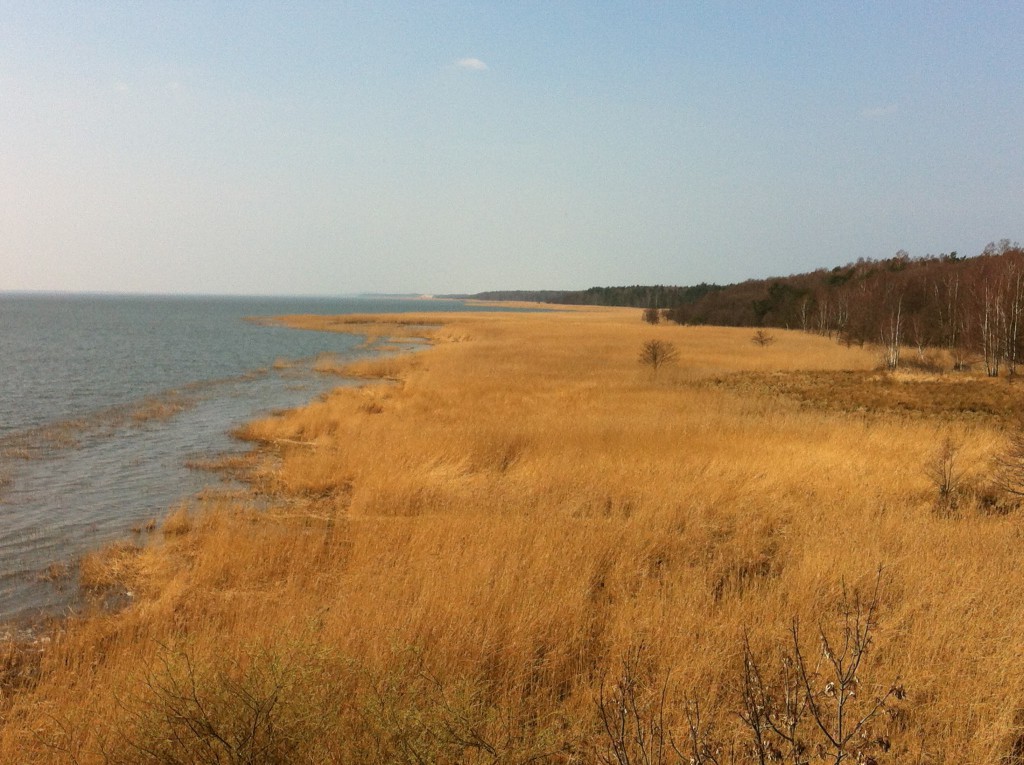 These pictures show an inland lake between the sand dunes and the mainland, lake Lebsko. The lake is very low and the water is not clean enough for swimming, but there are more than 250 species of wild birds in the area. This is an ideal location for bird-watchers.
Further away is another lake, lake Gardno. There are 140 km of hiking trails and 30 km of bike trails in the park.
Rabka
Rabka is the place where you have to leave your car. We parked and took an electric car running at regular intervals to the dunes. There were many groups and families cycling and walking on the road to the dunes. The distance is about 5 km. There are no services in the park, except some toilets and picnic tables.
Before the dunes begin there is a forest area. Since this is a national park, fallen trees are left where they are but yet this forest looks so pretty. But the forest is threatened since the sand is moving towards it and finally the trees will be destroyed by the sand.
Slowinski Shifting Sand Dunes
Now we are on the dunes and these trees have already been destroyed. For me this looks like Lapland, snow, snow and snow everywhere, but no – it's sand, white soft sand.
The sand is moving 10 meters a year, pushed by the wind.  The highest dune rises to 42 meters above sea level. We had luck with the weather, the day was not windy and there were no sandstorms.
We spent a nice hour or two on the dunes walking towards the sea and returning another route. The sand was so soft tthat it was hard to walk.  Many people took off their shoes and of course you got lots of sand inside your shoes.
I was wondering if snowshoes or skiing could make it easier to get around here. Or if you could use snowboards here?
Slowinski Beach
On the seaside there was a beautiful wide beach. People were sitting there and having a picnic.
We should come here in the summer and spend the whole day on the beach, and then hike on the marked trails and see more of the nature park.
Slowinski National Park was a great nature experience and worth the long drive from Gdansk. If you got interested in the park and the dunes, you can read more on the website of the National Park >>
From Slowinski we continued east along narrow country roads. Our next destination was Palac Ciekocinko.
Palac Ciekocinko
Palac Ciekocinko is a restored palace situated in the tiny village of Ciekocinko, half-way between Sasino and Zelazno. It was a bit hard to find.
The palace was in a very poor condition after the long Communist period when a Polish couple bought it to save and restore the building. There was practically no floor and there were big holes in the roof.
It took eleven years to rebuild the palace. Good architects and quality materials were used. Palac Ciekocinko became a hotel resort with four different restaurants. Now travelers in the region can enjoy this old-style luxury.
Lunch at Palac Ciekocinko
We enjoyed a lunch outside on the balcony. It was a sunny Saturday afternoon and the birds were singing in the trees that were beginning to get their leaves. There was no noise, just the birds. The lunch was delicious, especially the dessert I took, Yorkshire Rhubarb, the one in the last picture above.
Here is a picture of the palace and their horse stables. You can see more pictures and the exact location on the website of Palac Ciekocinko >>
After the lunch it was time to head back to Gdansk, this time along small Kashubian country roads.
There are mostly trees lining the road on both sides. It looks so pretty but it's dangerous. With today's traffic they should make the roads wider but they can't. Most people drive slowly but some cars we met had a very high speed which was a bit frightening. So drive carefully!
Back to Gdansk
Soon we came to the motor-way Gnydia-Gdansk. We drove thru suburbs and shopping districts. Many of the huge apartment blocks from the Communist period had been painted in strong colors but many others were still unrepaired.
If you have any suggestions where else to visit on this route please share your knowledge.
More about Pomerania
And you can read more about sights and tourist routes in Pomerania on the web, for example on the Pomorskie Travel website >>
My Other Posts on Poland