This post takes you to the South Island of New Zealand. We are touring the island with a campervan and now driving from Queenstown to Mount Cook.
We are taking the spectacular Crown Range (Cardrona) road from Queenstown to Wanaka, after which we will see Lindis Pass and the stunning Lake Pukapi before reaching Mount Cook. 
Lake Pukapi and Mount Cook, New Zealand South Island
The Otago region we are driving through is a spectacular place and certainly one of the most beautiful areas of New Zealand. There are snow-capped mountains, green valleys with rolling hills and farmland, turquoise mountain lakes, deep gorges and vast plateaus with dry grassland.
You are welcome to join our journey through the South Island of New Zealand and from Queenstown to Mount Cook!
This is post number 7 on our New Zealand South Island round trip. You will find the whole road trip on my New Zealand South Island Road Trip in 11 Days page that shows our whole route around South Island.
The Map: Queenstown to Mount Cook (Cardrona Road)
Driving time Queenstown to Mount Cook (Aoraki /Mt Cook) is something like four hours one way. But since the scenery is so nice you might want to stop along the way and spend a whole day on this journey. And hiking enthusiasts might even want to use two or more days in this beautiful region.
Crown Range and Cardrona Road or the Cromwell Route?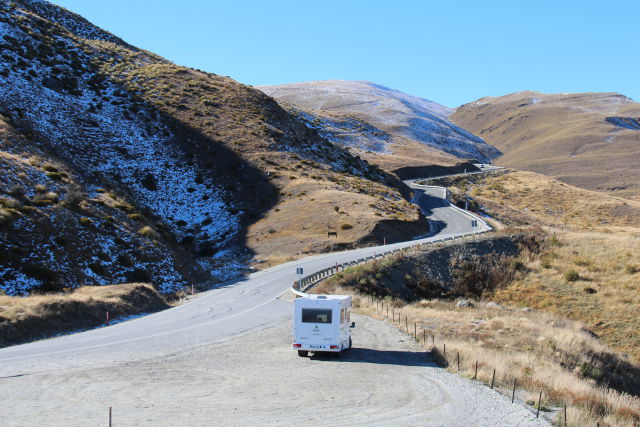 There are two alternative routes from Queenstown to Wanaka that you can choose between, firstly the Crown Range road (Cardrona Road) that I will show you in this post and secondly the longer Cromwell route that you can read about in my other post.
As the Crown Range road climbs to high altitudes and crosses a mountain chain the Cromwell route doesn't climb, it follows valleys all the way from Wanaka to Queenstown. Its most scenic part is the Kawarau Gorge.
So I will show you the sights on the Crown Range route in this post and the Cromwell route in another blog post New Zealand Drive: West Coast to Queenstown.
===
But we will start our journey from Queenstown to Mount Cook and our first stop is the postcard-pretty Lake Hayes:
Lake Hayes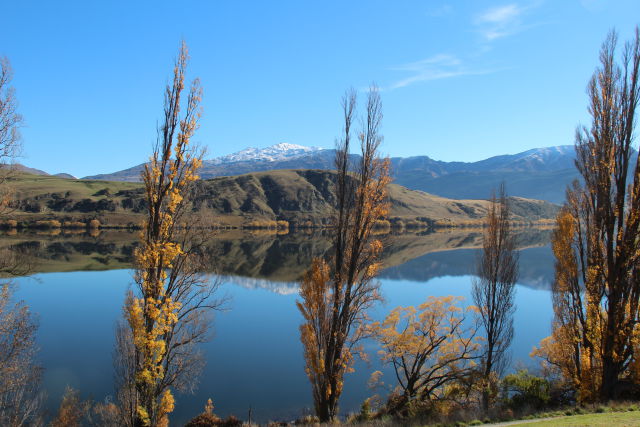 Lake Hayes is one of the most scenic lakes in New Zealand so stop here and look at the lake! It looks marvelous in autumn and it must be that all times of the year. Like all others we tried our best to capture Lake Hayes with our phones and cameras.
For more information on Lake Hayes and what you can do there check out my previous blog post Queenstown Day Trips by Car.
After Lake Hayes make a short side-trip to the historic gold mining town of Arrowtown – if you haven't already been there. Arrowtown is a must see place in New Zealand and I have photos on it in my other Queenstown area post.
This is what the landscape between Lake Hayes and Arrowtown looks like:
Between Lake Hayes and Arrowtown you will leave the State Highway 6 and turn to the Crown Range Road to Cardrona and Wanaka.
Crown Range Road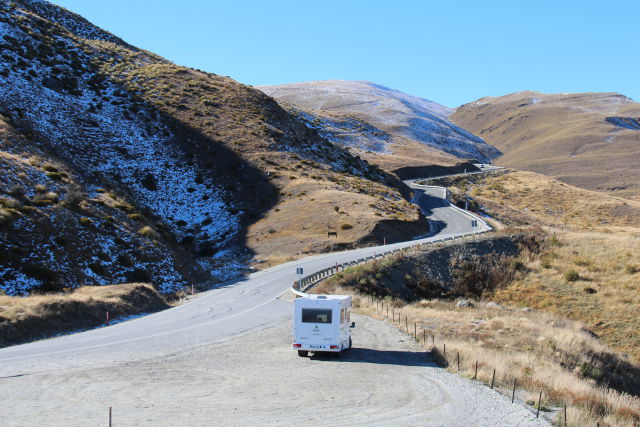 To take the Crown Range route you need good weather conditions, so check the weather forecast at least if you're traveling with a campervan.
The road climbs to high altitudes and there can be heavy winds and snow that might cause you trouble.
The climb up to Crown Range is steep with lots of sharp bends. There are parking areas where you can stop and take photos of the incredible views to Kawarau Gorge and Queenstown.
After the first climb there is a plateau where driving is easier but then the road gets climbing again.
Crown Range Summit
The Crown Range Summit is more than 1000 m above sea level. The air is refreshing, that will say cold…
There are some walking tracks that you can follow to get more views. We saw many walkers take one hour the Rock Peak climb that offers views to Kawarau Gorge wineries.
Cardrona Valley
From the Crown Range Summit there is a deep descent down to Cardrona Valley.
In the good driving conditions we had we didn't find the road particularly challenging. And the views were great all the time!
Cardrona
In the middle of Cardrona Valley is the tiny resort town of Cardrona that looks like a wild west town. Some views of Cardrona:
Cardrona Hotel
Cardrona Hotel is right in the middle of the village. The building in itself is iconic and the quiet garden behind the hotel is just lovely.
We had a cappuccino in the Cardrona Hotel garden sitting in the afternoon sunshine. The weather was not really warm but it was at least much warmer than the freezing air on the summit.
A short distance from Cardrona is a ski resort that operates in the winter, Cardrona Alpine Resort. 
Wanaka
The Cardrona Valley Road brings you down to Wanaka at the southern end of a lake with the same name. Wanaka is one of the most popular holiday spots in New Zealand and people come here for hiking and water activities in the summer and for skiing in the winter. There are many skiing resorts, not just Cardrona that we already saw.
Wanaka has a pretty setting between mountains and the lake, and the lake shore is all lined with trees and willows. This picture shows a hill called Eely Point. Eely Point is almost in the center of Wanaka and it has walking tracks.
Glendhu Bay

The Wanaka area looks so much like what you imagine New Zealand looks like so we  decided to stay here a little bit and look how it was like.
We took a small road to west towards Mount Aspiring National Park.  After a while we came to Glendhu Bay. There were beautiful Lake Wanaka views, a number of walking tracks and a camping site.
After Glendhu Bay we found more great walking tracks and all the driving and walking took so much time that we stayed the night at Glendhu Bay.
Camping in Glendhu Bay
We almost had a lakeshore camping of our own! It was low season and mid-week so there were only a couple of other camping guests. We parked our campervan on the most scenic spot we could find and prepared a dinner in our campervan kitchen. And looked at the lake and the mountains while dining.
The next morning we had a beach walk after which it was time to continue our Queenstown to Mount Cook trip.
The place was this: Glendhu Bay Lakeside Holiday Park
Lindis Valley
From Wanaka you follow the Cromwell Road or the Tarras Road on the other side of the river. This is open farming land with sheep, cattle and wineries. Tarras is a pretty small village. It was almost the only village in the area.
After Tarras we entered the long Lindis Valley where we could see amazing white mountain ridges at distance, all snow-covered.
Lindis Pass
The next destination on our Queenstown to Mount Cook self drive route is Lindis Pass. The road through Lindis Pass is 60 km long. It climbs through rocky gorges to grass-filled plains on the summit. The grass is very soft and thick and it has a yellow-brownish colour. Lindis Pass has been given a Scenic Reserve status. It's a tussock grassland reserve.
Before reaching the summit at 971 meters you drive long distances up and down the gorges. Lindis Pass is a pleasant drive in an empty landscape. No houses, no cattle, just the brown nature and the tussock grassland.
After you have done Lindis Pass there is a big plateau and the towns of Omarama, Glenbrook and Twizel. There are many man-made lakes as a result of a hydro-electric development scheme. The biggest of them is Lake Ruataniwha south of Twitzel.
But if you want to see a lake with a real SCENERY, go to the next lake, Lake Pukaki.
Lake Pukaki
Lake Pukaki gets its water from the Tasman Glacier below Mount Cook.  That's why the water is crystal clear and ice-cold.
The north end of Lake Pukaki is surrounded by the Southern Alps with Mount Cook in the middle, and the south end has lower rolling hills.
You can see lots of moraine all over round the lake. Lake Pukaki was created when moraine from a glacier blocked the valley.
This is a lake you can't stop looking at. So just sit down and enjoy the scenery.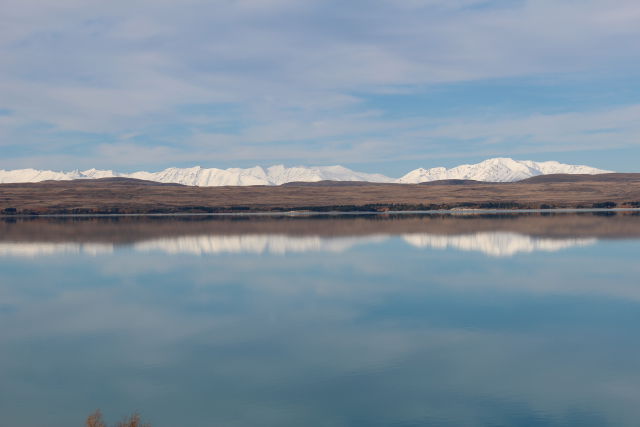 Lake Pukaki water has a distinctive blue colour, a similar colour to the small glacier lakes higher up in the mountains.
Lake Pukaki in Evening Light
These pictures are from the southern shore of the lake, towards north.
After sunset Lake Pukaki certainly looks even more amazing, backed by the Southern Mountains.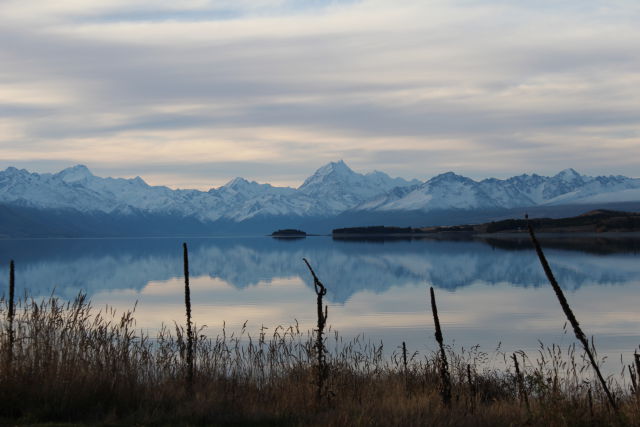 Mount Cook
At the north end of Lake Pukaki is the only settlement, Aoraki/Mount Cook. It's a very small resort with just a few hotels and some camping areas.
But Aoraki/Mount Cook village is a good base for exploring Mt Cook and glacier lakes.
My next post on New Zealand tells you what you can do in Mount Cook National Park:
More on New Zealand Travel
Queenstown to Mount Cook was section number 7 of our New Zealand South Island round trip. You will find all other sections on my New Zealand category page: