This post tells you how to make a day trip to Belem, from Lisbon, Portugal, and what to see in Belem, a place full of history. We took tram 15 from Lisbon and spent a day exploring Portugal's national monuments and learning about Portugal's past and great explorers. 
In Belem you will step 500 years back in time, to Portugal's Golden Age when Vasco da Gama sailed to India, Pedro Alfares to Brazil and Ferdinand Magelland around the globe.
This is Unesco World Heritage listed Torre de Belem, Portugal's national monument from 1515.
Belem in the westernmost part of Lisbon is from where Portuguese explorers left to the sea, and Belem also met the explorers when they returned.
If you are visiting Lisbon make a day trip to Belem. If you know about a country's past and national monuments you will better understand its present culture and people.
How to Make a Day Trip to Belem
We were wondering how to get to Belem and found out that the easiest way is to take the Lisbon tram 15. The Lisbon tram 15 that follows the north shore of the Tejo river brings you to Belem in just 20 minutes.
The tram leaves from Central Lisbon riverfront square, Praca do Comercio.  The photo shows you the tram 15 stop, it is where some people are standing.
On the tram you either pay with coins or use a Lisbon public transport card like the Viva Viagem or Lisboa Card. Read about Lisbon trams and cards in my blog post on Lisbon.
An alternative way is the Cascais train from Lisbon Cais do Sodre station. For train travel you can use the same transport cards or pay for your journey in a ticket machine. The map below shows the itinerary to Belem:
Day Trip to Belem Route Map
The map shows the driving route to Belem that is the same as the tram route.
Things to See in Belem
Belem is packed with sights connected with Portugal's history. There are so many cultural sights that you might get exhausted with them. Even if you try you can't see all Belem sights in one day.
So take at least these top three sights:
Jeronimos Monastery
Monument to the Discoveries
Torre de Belem
These top sights are close to each other so I made a walking-route between them. And walking along my route you will come across some more sights like the famous Pasteis de Belem, the pretty Rua Vieira Portuense, the riverside promenade and the Centro Cultural de Belem.
Belem Sights on the Map
This is the centre of Belem that since the explorers' times has developed to a modern Lisbon suburb. Yet Belem is not an ordinary suburb because Portugal's history is so strongly present all over.
The tram stops outside the Jeronimos Monastery which is a good place to start a walking-tour of Belem.
Jeronimos Monastery
The richly decorated Jeronimos Monastery is a national monument of Portugal, originally built by Manuel I who reigned the country in the 16th century.
The monastery was a thank to Portuguese explorers and in particular to Vasco da Gama who at that time returned from his historic voyage to India. Vasco Da Gama helped finance the project by bringing valuable jewels and spices from India and he is buried in the monastery.
The monastery was built in a style called manuelism, the style of Portugal's wealthy years. Some other Belem monuments like the Torre de Belem were built in the same style as well. 
The Jeronimos Monastery has fine decoration both inside and all Portuguese want to visit their national monument. Knowing this you should go to Belem in the morning before the crowds get there.
Museu Nacional de Arquelogia
The long west wing of the Jeronimos Monastery houses the Museu Nacional de Arquelogia. The museum shows finds from all over Portugal, from Iron age on.
You can see the Jeronimos Monastery with its west wing above. In front is the park Praca do Imperio that was made for an exhibition of Portuguese countries in 1940.
More about the monastery and its opening hours: Mosteiro dos Jeronimos.
Pasteis de Belem
Pasteis de Belem is a thing everybody is talking about. But what is this small Belem pastry shop famous for? For its original Portuguese pasteis de Belem tarts that they have produced all since 1837.
Pastel de Belem, or pastel de nata, is a common pastry in Portugal and in Portuguese countries. Originally the pastries were made by monks at the Jeronimos Monastery. But then the monastery closed and the monks sold their secret recipe to a family that started producing them in their bakery, Fabrica de Pasteis de Belem.
The same family still keeps the bakery that has become well known. They are making more than 10 000 pastries each day and are very good at it.
You can taste Portuguese custard tart in beautiful but busy surroundings, the rooms are decorated with blue azulejos, ceramic tiles.
More on Pasteis de Belem.
Views of Belem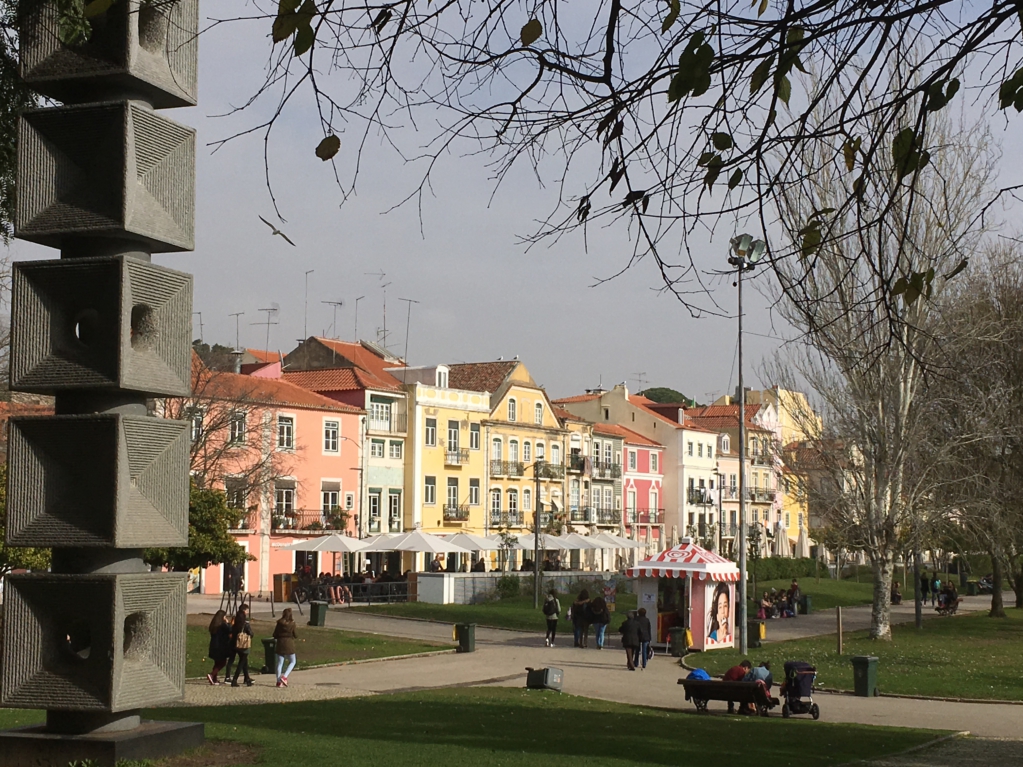 Rua Vieira Portuense close to Pasteis de Belem: coloured 16th and 17th century houses.
 The park opposite to Jeronimos Monastery: a leafy green area with a Chinese pavilion.
From the park, cross the main highway and you will see a huge white monument, the Monument to the Discoveries.
Monument to the Discoveries
The Monument to the Discoveries is much newer than the other Belem monuments: it was built in 1960 to celebrate the 500 years of the great explorers.
The straight lined monument itself is maybe not to my taste but it is packed with Portuguese symbols. The Monument to the Discoveries is so full of history that it might be Portugal's most important historic figure.
The monument looks like a ship preparing to sail and this ship has all famous Portuguese navigators travelling on it.
Famous Portuguese Navigators
This is the western face of the monument and there are more sailor sculptures on the eastern side. Who are all these sailors?
The man standing in front is Henry the Navigator, holding a ship in his hands. And there are more great navigators like Bartolomeu Dias who was the first to sail around the Cape of Good Hope, Vasco da Gama who sailed to India and Pedro Alvares who found Brazil.
One more sailor I should mention is Fernao Magalhaes who was the first to sail around the globe.
Inside the monument you can watch a slide show on Portugal's history. Or you can take a lift to the top for great views in all directions.
Right below the monument is a huge mosaic with the image of the world showing the places where the Portuguese went.
Looking towards Lisbon you can see the bridge 25 de Abril that looks like the Golden Gate bridge. The Lisbon bridge has the same red color as Golden Gate and it's is a very long hanging bridge too, the longest in Europe.
On the opposite shore is the statue of Cristo Rei, a smaller copy the Rio de Janeiro statue. In fact Cristo Rei is quite high too, over 100 m.
Views of Belem Harbor
Frozen yogurt and boat tours offered.
An old crane and sailing boats.
For tourists: tapas, coke and wine from a mini van.
Motorway and railway divide Belem in two parts.
Torre de Belem
Then last but not least, the UNESCO World Heritage listed Torre de Belem, the symbol of Portugal.
Torre de Belem stands here since 1515 when it was built on an island. Later the river changed its course and the tower is almost on the shore, connected by a short bridge.
The Belem tower was built to guard the city (there were three of these) and to greet Portuguese explorers back. Later the tower served as a prison and customs house.
Torre de Belem with its Venetian chapels and Moorish carvings is a mixture of styles. The reason for that is that the architect had traveled in Europe and North Africa and liked what he saw on his trips.
The tower has five floors and you can climb 121 steps to the top and see this beauty from above.
After visiting the tower we still had to walk around it and take photos to share.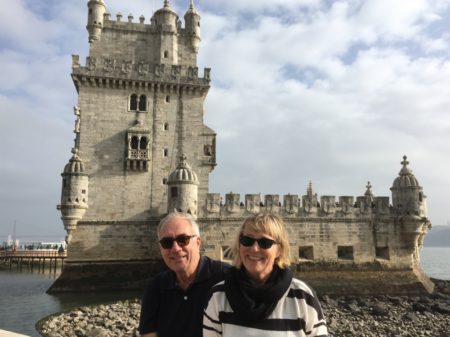 I liked this fairy-tale castle that stands in such a strange location, as if it was dropped in the wrong place. And despite the earthquakes the castle is so well preserved. If I didn't know how old Torre de Belem is I would say it was built hundreds of years later.
If you plan to visit read more on the Torre de Belem website.
Pasteis de Nata
Behind Torre de Belem we found an outdoor cafe where we sat down. After all the culture and history we needed some more Portuguese tarts. This cafe also had pasteis de nata, a little bit different from the ones we had before but I would say as good.
And I have to admit that we ordered more. Beautiful views, winter sun, no rush, no queues, and good tarts!
Pastel de nata custard tarts have a rich egg custard in a crisp pastry.
Pastel de nata is a crispy tart is filled with a rich egg custard. They prepare the custard of flour, sugar, cinnamon, milk, vanilla, eggs and water and bake the tart in a very hot oven. If you like you can spray sugar and cinnamon on the hot tart.
More Belem Sights
On the way back to central Belem we came across one more monumental building, the Centro Cultural de Belem.
The Centro Cultural looks like a modern castle and it really is new, built in 2007. The building has two functions since it also contains the Museu Coleccao Berardo, Portugal's finest museum of modern art.
Now we have covered the top sights of Belem. Maybe you want some more? Here is a list on other Belem sights that might interest you:
Palacio de Belem, a former royal palace, now the residence of Portugal's president
Museu de Presidencia de Republica in the palace, tells about Portugal's history
Jardim Botanico Tropical behind the palace
Museu Nacional dos Coches, a museum of old coaches and ceremonial vehicles, and
Museu de Marinha that has an exhibition on Portugal's maritime history.
I hope you liked reading about the historic Belem and hope this post helps you plan your own day trip to Belem.
More on Portugal Travel: